by Ani­ta Pat­ter­son
Pub­lished Decem­ber 28, 2013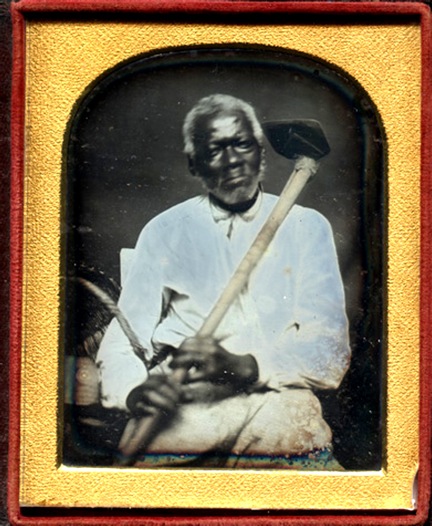 Pho­tog­ra­ph­er unknown, "Richard's fam­i­ly slave," daguerreo­type (cir­ca 1850), col­lec­tion of Greg French.
This man is hold­ing a hoe, and his mouth is set in deter­mi­na­tion. The hoe shows that he has worked hard all his life. He has a look of defi­ant dig­ni­ty in his eyes, verg­ing on veiled out­rage. Unlike the Joseph T. Zealy daguerreo­types of degrad­ed, naked slaves inde­cent­ly posed as spec­i­mens of a racial type, this daguerreo­type por­trays an indi­vid­ual wear­ing his best Sun­day clothes. He is hold­ing a hoe, a farm imple­ment that was cen­tral to the farm­ing cul­ture of West Africa, where his ances­tors came from. It reminds us of cul­tur­al con­ti­nu­ity with a long agri­cul­tur­al tra­di­tion through­out the Amer­i­c­as that goes all the way back to Africa. There are many forms of hoe in Africa, but most of them had short­er han­dles. (This one, which can be used while stand­ing upright, is com­mon­ly called a Dutch hoe, and it was first man­u­fac­tured in Europe.) The man's hoe is a sym­bol of cul­tur­al resis­tance and defi­ance: it was used through­out the New World, and in some places (such as the non-His­pan­ic Caribbean) its cul­tur­al insis­tence was so strong that it replaced the plow.
I chose this image from the Mir­ror of Race col­lec­tion because it sur­prised me as an image about "work," and in par­tic­u­lar because it tells us less about work itself than about the way in which this indi­vid­ual con­fronts the con­di­tions of his work and of his iden­ti­ty as a pro­duc­er. The por­trait also sur­prised me because I inter­pret­ed it as a rep­re­sen­ta­tion of defi­ance, under con­di­tions in which a free and authen­tic expres­sion of defi­ance would not have been pos­si­ble. After all, the man in this daguerreo­type is a slave, "Richard's Fam­i­ly Slave," from Lewis Coun­ty, Mis­souri, and his own­er had the por­trait tak­en around 1850. The por­trait made me won­der why I, as an ear­ly twen­ty-first-cen­tu­ry view­er, would so read­i­ly inter­pret it as a mode of defi­ance, giv­en that the por­trait was posed—that is, its sub­ject under­stood (even if he resist­ed) that he was being asked to present him­self as a slave, to wear the mask of the slave, as Roland Barthes puts it in Cam­era Luci­da. In what fol­lows, I'd like to con­sid­er some oth­er works that influ­enced me as a view­er and inter­preter, and very like­ly shaped my response to the slave's portrait—a paint­ing by Jean-François Mil­let, a pho­to­graph by Lewis Hine, and a poem by Ster­ling Brown. I'll con­clude by exam­in­ing some oth­er exam­ples from the col­lec­tion that sug­gest why I con­sid­er this image of Richard's fam­i­ly slave to be such a rare and inter­est­ing excep­tion.
The slave's por­trait could not, in many ways, be more dif­fer­ent from Jean-François Millet's L'homme à la houe (Man with a Hoe), a paint­ing that, like many oth­ers by Mil­let, evokes the hero­ism of peo­ple engaged in sow­ing, har­vest­ing, glean­ing, and oth­er field­work, who put up with the inces­sant rep­e­ti­tion and fatigue of labor in their dai­ly lives. Millet's paint­ing depicts a French peas­ant star­ing at the ground in despair, rest­ing on his hoe for a moment while he is labor­ing in a field. By con­trast, the slave in the por­trait is seat­ed, proud­ly clasp­ing his hoe; his gaze direct­ly address­es the view­er, demand­ing that we think about the kind of work he does, and why. The har­vest­ing bas­ket encir­cling his arm reminds us that he will even­tu­al­ly have to go back to the field to farm the land, and that he is bur­dened by his duties and labor as a slave.
One of Millet's inno­va­tions as a painter was that he dis­cov­ered new styl­is­tic pos­si­bil­i­ties in the rep­re­sen­ta­tion of types and scenes from coun­try life. In a com­po­si­tion of extreme sim­plic­i­ty, his por­tray­al of the peasant's resigned and exhaust­ed expres­sion reveals Millet's sym­pa­thy with him. This makes sense when we remem­ber that Mil­let was him­self the son of Nor­man peas­ants, and labored on his father's farm dur­ing his youth, before he decid­ed to study art.(1) Dur­ing the nine­teenth cen­tu­ry, when Mil­let paint­ed L'homme à la houe, a wide­ly rec­og­niz­able rhetoric of sym­pa­thy per­vad­ed lit­er­a­ture, the arts, and pop­u­lar cul­ture on both sides of the Atlantic as a protest against var­i­ous forms of unjust oppres­sion of laborers—including African Amer­i­cans and chil­dren, as well as peas­ants. Con­sid­er the exam­ples of Charles Dickens's Hard Times (1854) or Har­ri­et Beech­er Stowe's Uncle Tom's Cab­in (1852). In this instance, how­ev­er, it is unde­ni­able, and sig­nif­i­cant, that Millet's labor­ing man with a hoe is not owned by Millet—he is not Millet's slave, some­one forced to pose so that that Mil­let can ren­der him. L'homme à la houe thus high­lights what is most dif­fer­ent and com­plex about the slave's por­trait as a por­trait of labor—namely, that the very labor of sit­ting for the por­trait is unfree, just as the subject's labor is unfree.
Still, my com­par­i­son with Mil­let is less far-fetched when we real­ize, as Ell­wood Par­ry has observed, that as ear­ly as Alain Locke's The Negro In Art of 1940, crit­ics under­stood that Amer­i­can painters such as Winslow Homer raised aware­ness among nine­teenth-cen­tu­ry Amer­i­cans about the star­tling sim­i­lar­i­ty between the unjust and harsh socioe­co­nom­ic con­di­tions con­front­ed by African Amer­i­cans and by French peas­ants; and, fur­ther, as William Gerdts, Michael Quick, and oth­ers have shown, in tak­ing on this theme, Homer was strong­ly influ­enced by Mil­let.(2) Like Millet's paint­ing, this daguerreo­type por­trait of a man with a hoe invites us to con­sid­er the labor­ing subject's per­son­hood, char­ac­ter, and con­di­tion. We are invit­ed, for exam­ple, to reflect on the sym­bol­ic res­o­nance of their imple­ments of labor: Is the hoe a sym­bol of degra­da­tion or dig­ni­ty? Does it imply civ­i­liza­tion­al achieve­ment and con­ti­nu­ity or dehu­man­iz­ing social death?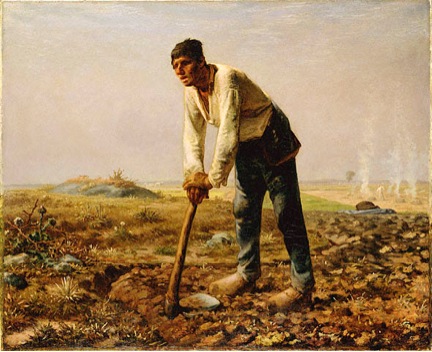 Jean-François Mil­let, L'Homme à la houe (Man with a Hoe), oil on can­vas (1860–1862), Wiki­me­dia Com­mons and the Get­ty Cen­ter, Los Ange­les.
Anoth­er body of work that prob­a­bly pre­con­di­tioned my inter­pre­ta­tion of the slave's por­trait is the col­lec­tion of pho­tographs that Lewis W. Hine took when he was hired as an inves­tiga­tive pho­tog­ra­ph­er for the Nation­al Child Labor Com­mit­tee, and trav­eled across Amer­i­ca from 1908 to 1912, pho­tograph­ing chil­dren forced to work long hours under dan­ger­ous con­di­tions. Like Hine's lat­er pho­tographs about work, these images offer a great oppor­tu­ni­ty for think­ing about what kind of social con­text made the slave's por­trait new­ly mean­ing­ful to me as a viewer—why, that is, I could have inter­pret­ed the slave's por­trait as an expres­sion of defi­ance in the first place. Con­sid­er, for exam­ple, Hine's pho­to­graph of three boys pick­ing shade-grown tobac­co in Buck­land, Con­necti­cut. The cap­tion, writ­ten by Hine, men­tions, "The 'first pick­ing' neces­si­tates a sit­ting pos­ture," there­by reas­sur­ing the view­er that the chil­dren as sub­jects were forced to pose not by Hine, but by ter­ri­ble con­di­tions of labor with­in the com­plex, greed-rid­den social mech­a­nism Hine seeks to dis­cred­it and expose: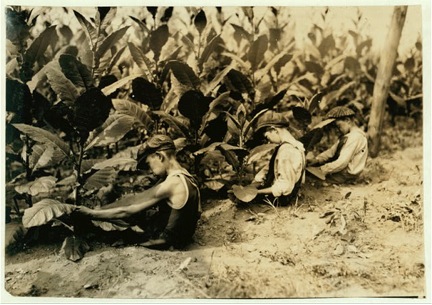 As Alan Tra­cht­en­berg has observed, Hine knew all too well that doc­u­ment­ing fac­tu­al infor­ma­tion, which was often hid­den by ner­vous own­ers, man­agers, inspec­tors, and even the par­ents and chil­dren them­selves, would not be enough to make the telling of the sto­ry a "social act," because this would only be pos­si­ble when some gen­uine com­mu­ni­ca­tion had occurred. "Hine devel­oped meth­ods of pre­sent­ing his pic­tures," Tra­cht­en­berg writes, "as mute mon­u­ments seek­ing a voice in the viewer's imag­i­na­tion, a voice in dia­logue." This helps to explain why, viewed in the after­math of Hine's social pho­tog­ra­phy, the slave's por­trait demand­ed such active par­tic­i­pa­tion on my part. "The point of view," Tra­cht­en­berg writes, "toward the sta­tus of social fact which evolves in his work (not just the work of pic­ture mak­ing but of pre­sen­ta­tion, of inter­pre­ta­tion of his own pic­tures) is the most inter­est­ing, dif­fi­cult, and neglect­ed fea­ture of Hine's Amer­i­can pho­tographs; it accounts for what is most impor­tant in his work, the way his pic­tures invite and demand a par­tic­u­lar kind of par­tic­i­pa­to­ry view­ing."(3)
But what does such active par­tic­i­pa­tion in the com­mu­ni­ca­tion of an image mean? How did I learn, con­scious­ly or not, to inter­pret the work per­formed by Richard's fam­i­ly slave, even under such con­di­tions of dis­hon­or and sub­jec­tion, as his source of pride and hope? Such com­mu­ni­ca­tion only hap­pens when a view­er not only takes the time to sym­pa­thize, but then goes on to inter­pret active­ly and learn from the impli­ca­tions of the imagery, cap­tion­ing, and com­po­si­tion of Hine's pho­tographs. Appeal­ing to my visu­al sense, Hine admon­ished me to reflect upon my own expe­ri­ence and respon­si­bil­i­ty as a par­tic­i­pant, not a pas­sive spec­ta­tor, in the social real­i­ty ren­dered by this image of child labor, and this, in turn, taught me to regard the slave's por­trait in a sim­i­lar light.
There is, final­ly, a poem by Ster­ling Brown, which very like­ly influ­enced my response to the slave's por­trait. Brown adapts the tech­niques of mod­ernism to demand our par­tic­i­pa­to­ry engage­ment with his text, in much the same way that Hine's pho­tographs do. Writ­ten in mem­o­ry of his father, the Rev­erend Ster­ling Nel­son Brown, it is called "After Win­ter" and goes like this:
He snug­gles his fin­gers
In the black­er loam
The lean months are done with,
The fat to come.
His eyes are set
On a brush­wood-fire
But his heart is soar­ing
High­er and high­er.
Though he stands ragged
An old scare­crow,
This is the way
His swift thoughts go,
"But­ter beans fo' Clara
Sug­ar corn fo' Grace
An fo' the lit­tle feller
Run­nin' space.
"Radish­es and let­tuce
Egg­plants and beets
Turnips fo' de win­ter
An' can­died sweets.
"Home­spun tobac­co
Apples in de bin
Fo' smok­ing' an' fo' cider
When de folks draps in."
He thinks with the win­ter
His trou­bles are gone;
Ten acres unplant­ed
To raise dreams on.
The lean months are done with,
The fat to come.
His hopes, win­ter wan­der­ers,
Has­ten home.
"But­ter beans fo' Clara
Sug­ar corn fo' Grace
An fo' the lit­tle feller
Run­nin' space.
Brown's father was a for­mer slave who worked his way through Fisk Uni­ver­si­ty, attend­ed Ober­lin Col­lege sem­i­nary, and became a min­is­ter who was also a pro­fes­sor and chair­man at the School of The­ol­o­gy at Howard Uni­ver­si­ty. The poem explores how, even or per­haps espe­cial­ly after the long, dark win­ter of slav­ery, the eman­ci­pat­ed slave's expe­ri­ence of free­dom, of plant­i­ng his own crops in the field, is a step toward artic­u­lat­ing and real­iz­ing the Amer­i­can dream: "Ten acres unplant­ed / To raise dreams on." Brown con­fers dig­ni­ty on the field-work­er in the poem in part by reveal­ing his inner life and vision of a bet­ter future for him­self, his fam­i­ly, and com­mu­ni­ty. The stan­zas con­tain­ing the field-worker's thoughts are inter­wo­ven with stan­zas that con­vey the per­spec­tive of a know­ing poet-speak­er, who sug­gests that, even after this hope­ful moment, there will be trou­bles to con­front in the future: even if the man in the field "thinks" that his trou­bles will dis­si­pate with the win­ter, we know this is not the case. Rather than por­tray­ing the field-work­er as a naive or self-delud­ing ide­al­ist, how­ev­er, the poem demon­strates how, through his imag­i­na­tive act of envi­sion­ing a hap­pi­er future, his work has been trans­fig­ured from an expe­ri­ence that is back­break­ing and demor­al­iz­ing into a rit­u­al that is heal­ing, regen­er­a­tive, and enjoy­able, not only because it cre­ates a sense of direc­tion and goals in life, but also because it is done for the ben­e­fit of his fam­i­ly and com­mu­ni­ty. As Joanne Gab­bin observes in her ground­break­ing study of his poet­ry, "Brown's poet­ry reveals an explo­ration of self-hood, a cel­e­bra­tion of the strength and sto­icism of Black peo­ple, and an abid­ing faith in the pos­si­bil­i­ties of their lives."(4)
There are oth­er images of work in this col­lec­tion, but none con­veys this mes­sage as poet­i­cal­ly or pow­er­ful­ly as the 1850 por­trait of Richard's fam­i­ly slave.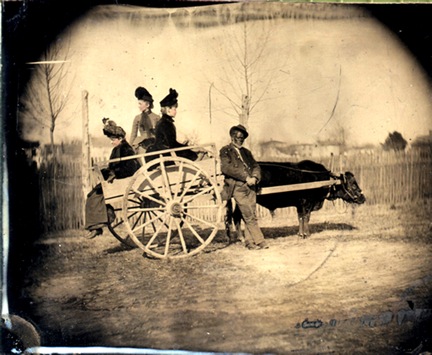 Pho­tog­ra­ph­er unknown, oxcart with pas­sen­gers and dri­ver, tin­type (cir­ca 1875), col­lec­tion of Greg French.
Con­sid­er this tin­type, which was made about 1875: it illus­trates a com­mu­ni­ty trag­i­cal­ly divid­ed. The peo­ple are wait­ing for some­one, and while it may seem odd to us now that the wag­on is drawn by a large ox, this was not uncom­mon for those not rich enough to afford a horse and car­riage, and so it is pos­si­ble that the cart belongs not to the well-dressed women but to the dri­ver, who alone appears to look at the cam­era. The woman on the left looks bored and tired, the woman on the right seems resigned, and the woman in the cen­ter looks expec­tant­ly for some­one who is not in the pic­ture. The women are look­ing every­where except at each oth­er, and cer­tain­ly not at the dri­ver; the driver's stance sug­gests iso­la­tion and indif­fer­ence, and although these ladies may be dressed for some occa­sion, we have no idea what it is, where they are going, or why.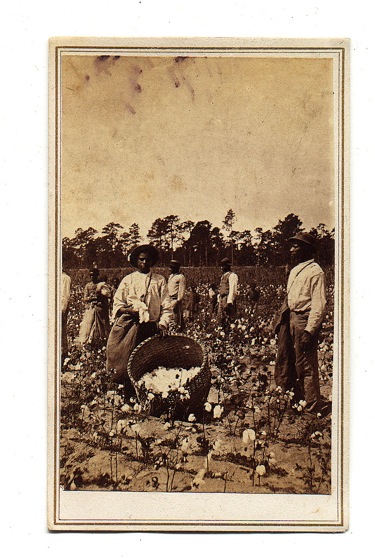 Pho­tog­ra­ph­er unknown, cot­ton pick­ers, carte-de-vis­ite (1860s), col­lec­tion of Greg French.
Or this one, a carte-de-vis­ite tak­en in the 1860s. It looks as though the cot­ton crop is sparse, and there is not much for the pick­ers to do—possibly show­ing the short­ages of the post­bel­lum econ­o­my. Or they may be cot­ton glean­ers whose job is to col­lect the left­overs from the picked-over fields after the har­vest. The image draws the viewer's eye to the large half-emp­ty bas­ket of cot­ton. The envi­ron­ment is arid and peo­ple are not talk­ing to one anoth­er. There may be a woman with a baby in the back­ground, which sug­gests that they could be glean­ers, because this was work some­times done by women, but we can­not see them clear­ly. Giv­en how stark and hope­less the image is (again, offer­ing a vivid con­trast with Millet's sym­pa­thet­ic, hero­ic ren­der­ing of peas­ant women glean­ing grains of wheat in a paint­ing done in 1857), it is strange to recall that it was used on a carte-de-vis­ite, pre­sum­ably to adver­tise the wealth and social sta­tus of the prop­er­ty own­er.
Unlike the por­trait of the man with the hoe, this image tells us next to noth­ing about the char­ac­ter or human­i­ty of the work­ers themselves—they are pre­sent­ed as mute, still fig­ures in the land­scape. We learn lit­tle about the vital­i­ty of the folk cul­ture asso­ci­at­ed with their dai­ly work—the fact that, as Brown reminds us, "Out of the worka­day life came fig­ures of speech."(5) Brown admired, stud­ied, and wrote about work songs as a tra­di­tion­al folk form: accord­ing to one schol­ar, Mark Sanders, Brown's cre­ative adap­ta­tion of the prosody and stan­za­ic orga­ni­za­tion of African Amer­i­can work songs is one of his key achieve­ments as a poet.(6)
Brown observes how work songs helped peo­ple to har­mo­nize their phys­i­cal move­ment under dan­ger­ous work­ing con­di­tions, whether pick­ing in the fields; row­ing, heav­ing or unload­ing on a boat; or swing­ing a broad­ax, pick, ham­mer, or tam­per. Else­where, he remarks that "coon­jine" songs were cre­at­ed by African Amer­i­can roustabouts on water­fronts along the Ohio and Mis­sis­sip­pi Rivers, and named after "the shuf­fling dance over buck­ing gang-planks in and out of steam­boat holds." Here, he says, hav­ing a bad sense of rhythm could have poten­tial­ly ter­ri­ble con­se­quences: "Unless the rhythm was just right a roustabout and his bale or sack of cot­ton­seed might be jolt­ed into the brown waters." Sim­i­lar­ly, when a gang of men was chant­i­ng a work song while they unloaded heavy steel rails, any break in the rhythm of lift­ing them from the flat cars to the ground could result in seri­ous injury or death. Work songs sung in pris­ons were "brewed in bit­ter­ness," dis­clos­ing "the naked truth of des­per­ate men telling what is on their brood­ing minds."(7) Viewed in these terms, the poet­ry of work is not just a lux­u­ry, it is a cher­ished and nec­es­sary form of cul­tur­al sus­te­nance that engen­ders a remark­able, hero­ic capac­i­ty to sur­vive against all odds.
Hen­ry Louis Gates has argued that "Brown is a region­al­ist whose poems embody William Car­los Williams's notion that the clas­sic is the local, ful­ly real­ized."(8) Like Williams, Edwin Arling­ton Robin­son, and espe­cial­ly Robert Frost, whose poems he great­ly admired, Brown rec­og­nized that work, com­bined with the resources of long­stand­ing folk tra­di­tions, fos­ters expres­sions and metaphors that are beau­ti­ful, con­cise, and rich­ly evoca­tive. "I was inter­est­ed in how a per­son … could say so much with­out using too many words," he once remarked. "I saw a very ton­ic shrewd­ness; I saw an abil­i­ty to take it.… I saw for­ti­tude; I saw an irony and the humor … a dou­ble edged humor built up of irony and shrewd obser­va­tion."(9) His grasp of folk tra­di­tions was schol­ar­ly, and delib­er­ate­ly com­par­a­tive: he read wide­ly in Irish, Eng­lish, Ger­man, and French folk­lore, and, hav­ing stud­ied what Yeats had done with folk­lore in Irish lit­er­a­ture, he saw African Amer­i­can folk­lore as hav­ing the same role in Amer­i­can lit­er­a­ture and in his own poet­ry. "I became inter­est­ed in folk­lore," he said, "because of my desire to write poet­ry and prose fic­tion.… I want­ed to get an under­stand­ing of peo­ple, to acquire an accu­ra­cy in the por­tray­al of their lives." Like many of his con­tem­po­raries, Brown lament­ed the destruc­tive impact of mech­a­niza­tion and mass pro­duc­tion on the ways work­ing peo­ple regard­ed their activ­i­ty of work: "Song," he not­ed, "as a rhyth­mic accom­pa­ni­ment to work is declin­ing," and although men still sang as they worked, "their fan­cies ram­ble from the job often­er than they stay with it."(10)
I now real­ize how much painstak­ing inter­dis­ci­pli­nary schol­ar­ship has yet to be done before we even begin to sat­is­fy our long­ing for a vivid and rich­ly detailed record of the lives, thoughts, and expe­ri­ences of mil­lions of slaves, here and through­out the Amer­i­c­as. Millet's painter­ly dis­course of sym­pa­thy, and the active reflec­tion and engage­ment elicit­ed by Hine and Brown, have giv­en me pre­cious insight into why I con­sid­ered the por­trait of Richard's fam­i­ly slave to be an excep­tion­al image of work in The Mir­ror of Race col­lec­tion. Mil­let taught me to imag­i­na­tive­ly iden­ti­fy and sym­pa­thize with the slave; Hine and Brown encour­aged me to con­sid­er my expe­ri­ence and respon­si­bil­i­ty as a par­tic­i­pant, not a pas­sive spec­ta­tor, in the social real­i­ty ren­dered by the image. In Brown's poem I encoun­tered an alto­geth­er new por­trait of a labor­er, the por­trait of a for­mer slave who is now free at last to work for him­self and his com­mu­ni­ty. It is one of the pro­found ironies of Amer­i­can his­to­ry that, giv­en how much work African Amer­i­can slaves did to cre­ate our nation, how very few images exist to acknowl­edge this real­i­ty. Mil­let, Hine, and Brown helped me, in dif­fer­ent ways, to com­mu­ni­cate with that lost human­i­ty, peo­ple who would oth­er­wise have been deprived of all dig­ni­ty, and even a name, in the per­for­mance of their labor. It is a valu­able and far-reach­ing truth to have learned that art can, at its best, restore and com­mem­o­rate their achieve­ment.
---
(1) See Estelle Hurll, Jean-François Mil­let (Cam­bridge, Mass­a­chu­setts: River­side Press, 1901), 1.
(2) See Alain Locke, ed., The Negro in Art: A Pic­to­r­i­al Record of the Negro Artist and of the Nero Theme in Art (Wash­ing­ton, DC: Asso­ciates in Negro Folk Edu­ca­tion, 1940), 139; Ell­wood Par­ry, The Image of the Indi­an and the Black Man in Amer­i­can Arts, 1590–1900 (New York: Braziller, 1974); William Gerdts, "Winslow Homer in Culler­coats," Yale Uni­ver­si­ty of Art Gallery Bul­letin 26 (Spring 1977); Michael Quick, "Homer in Vir­ginia," Los Ange­les Coun­ty Muse­um of Art Bul­letin 24 (1978).
(3) See Alan Tra­cht­en­berg, Read­ing Amer­i­can Pho­tographs: Images as His­to­ry: Math­ew Brady to Walk­er Evans (New York: Hill and Wang, 1989), 203 and 197.
(4) Gab­bin, Joanne V., Ster­ling A. Brown: Build­ing the Black Aes­thet­ic Tra­di­tion (Char­lottesville: Uni­ver­si­ty of Vir­ginia Press, 1994), 4–5.
(5) Brown, Ster­ling A., "Negro Folk Expres­sion: Spir­i­tu­als, Bal­lads and Work," in A Son's Return: Select­ed Essays of Ster­ling A. Brown, Mark A. Sanders, edi­tor (Boston: North­east­ern Uni­ver­si­ty Press, 1996), 246. Brown's essay dates from 1953.
(6) Sanders, Mark A., Afro-Mod­ernist Aes­thet­ics and the Poet­ry of Ster­ling A. Brown (Athens, Geor­gia: Uni­ver­si­ty of Geor­gia Press, 1999), 56.
(7) See Brown, "Negro Folk Expres­sion," 257 and 260.
(8) Gates, Hen­ry Louis, Fig­ures in Black: Words, Signs, and the 'Racial' Self (New York: Oxford UP, 1989), 228.
(9) Quot­ed in Gab­bin, Ster­ling A. Brown: Build­ing the Black Aes­thet­ic Tra­di­tion, 36. Gabbin's source is a May 10, 1973, inter­view of Brown by Steven Jones and Stephen Hen­der­son at Howard Uni­ver­si­ty. The inter­view was tran­scribed, and the tran­script is at the Insti­tute for the Arts and Human­i­ties at Howard.
(10) See Brown, "Negro Folk Expres­sion," 259.