by Dominique Zino
CUNY Grad­u­ate Cen­ter
Pub­lished April 18, 2013
"Mir­ror­ing Moth­er­hood," the essay that fol­lows this intro­duc­tion, rep­re­sents the cul­mi­na­tion of what began as a six-week effort in a small col­lege Eng­lish sem­i­nar that ran in the fall of 2011 at Queens Col­lege (City Uni­ver­si­ty of New York). At the time, I was in my sixth year of a doc­tor­al pro­gram at the CUNY Grad­u­ate Cen­ter. Assigned an upper-lev­el course that was des­ig­nat­ed only as "Select­ed Top­ics in Lit­er­a­ture" (ENGL 395W), I was free to devise a syl­labus that intro­duced under­grad­u­ates to my own bud­ding area of exper­tise: nine­teenth-cen­tu­ry visu­al cul­ture. The one require­ment, beyond mod­el­ing a well-struc­tured, top­ic-based inquiry, was that the course be "writ­ing inten­sive."(1) I thought a lot about the vari­ety of ways I could sat­is­fy that require­ment and decid­ed that this would be a course in which images and text were both stressed—a term I intend­ed to be heard through mul­ti­ple reg­is­ters. On one lev­el, images and texts would be empha­sized equal­ly and in con­ver­sa­tion with each oth­er; on anoth­er lev­el, con­sid­er­ing them in tan­dem would put typ­i­cal bound­aries between pic­to­r­i­al and tex­tu­al modes of rep­re­sen­ta­tion under stress.(2) I called the course "Pic­tur­ing the Invis­i­ble."
A few months before the class began, when it was still a sketchy mass of pos­si­ble read­ings and assign­ments, I par­tic­i­pat­ed in a week­long sum­mer sem­i­nar for col­lege instruc­tors, "Pic­tur­ing Reform: How Images Trans­formed Amer­i­ca, 1830–1880," host­ed by the Amer­i­can Anti­quar­i­an Society's Cen­ter for His­toric Amer­i­can Visu­al Cul­ture. Our treat­ment of images of class con­flict, women's reform, and abo­li­tion­ist and anti-abo­li­tion­ist move­ments was twofold. We observed var­i­ous daguerreo­types, pho­tographs, etch­ings, and lith­o­graphs as mate­r­i­al arti­facts (which were often pulled from the AAS col­lec­tions so we could view them first­hand); we also dis­cussed the social and polit­i­cal con­texts for each image, informed by back­ground read­ings we had com­plet­ed before­hand, in order to con­struct a lay­ered sense of its rhetor­i­cal pow­er. The sem­i­nar revealed the extent to which images can be treat­ed as "texts" that can be mined for analysis—a premise that, in hind­sight, clear­ly shaped my ped­a­gog­i­cal approach that fall. When one of the sem­i­nar lead­ers men­tioned the Mir­ror of Race project as an eas­i­ly acces­si­ble source of nine­teenth-cen­tu­ry pho­tographs, I vis­it­ed the site and imme­di­ate­ly saw the pos­si­bil­i­ties its some­times ambigu­ous images would afford stu­dents who were being intro­duced to the foun­da­tions of visu­al cul­tur­al analy­sis.
When I returned to Queens Col­lege that fall, my stu­dents wast­ed no time call­ing me out on my method­ol­o­gy: This doesn't seem like an "Eng­lish" class, they said. In a sense, they were right. Among the ear­li­est read­ings for the course was William Hen­ry Fox Talbot's The Pen­cil of Nature (1844), the first book to be illus­trat­ed with pho­tographs. Pre­sent­ing the stu­dents with Talbot's book in the first two weeks allowed me to rein­force our approach to the course mate­r­i­al. We would not be read­ing only "lit­er­ary" texts. More­over, we would not be treat­ing pho­tographs as objects that are sec­ondary to (or, in oth­er words, mere­ly illus­tra­tive of) tex­tu­al pas­sages. We read The Pen­cil of Nature both to pin­point Talbot's rhetor­i­cal argu­ment about photography's infal­li­bil­i­ty and to study the book as a designed object that inten­tion­al­ly con­versed with the pho­tos adorn­ing its pages. Encour­ag­ing the stu­dents to see pho­to­graph­ic images as objects that had the poten­tial to defa­mil­iar­ize or dis­ori­ent us from a par­tic­u­lar reality—even as they sought to con­firm it—I iso­lat­ed three the­mat­ic realms of inves­ti­ga­tion that would car­ry us through the next few months: "Spirit/Belief," "Time: His­to­ry and Motion," and, final­ly, "Race." (Each of these themes rep­re­sent­ed a four-to-five-week unit on the syl­labus, though, of course, each war­rant­ed an entire sem­i­nar in its own right.)
Know­ing that the course was mov­ing toward an explo­ration of the images in the Mir­ror of Race exhi­bi­tion helped me to con­cretize these themes for the stu­dents. Once we had ground­ed our dis­cus­sion in a few lit­er­ary texts and a the­o­ret­i­cal tra­jec­to­ry (guid­ed large­ly by read­ings in The Nine­teenth-Cen­tu­ry Visu­al Cul­ture Read­er (3), stu­dents were able to test their abil­i­ty to con­tex­tu­al­ize and inter­pret the mate­r­i­al in the exhi­bi­tion. Through the ways the Mir­ror of Race daguerreo­types, ambrotypes, and cartes-de-vis­ite high­light the insuf­fi­cien­cy and ambi­gu­i­ty of pho­to­graph­ic accounts of racial dif­fer­ence (as well as pho­to­graph­ic accounts of class, gen­der, and dis­abil­i­ty), these archival mate­ri­als prompt­ed us to notice gaps across expec­ta­tion and rep­re­sen­ta­tion and to pay atten­tion to how we attempt­ed to fill them in. The images forced us to pay atten­tion to our own efforts to, as the course title offered, "pic­ture the invis­i­ble."
In the final six weeks of the sem­i­nar, my pri­ma­ry goal was to get the class mem­bers to devel­op a col­lab­o­ra­tive writ­ten nar­ra­tive about some sub­set of the images on the Mir­ror of Race web­site.(4) More­over, I hoped to help them under­stand that strong writ­ing requires con­stant reflec­tion on a process, a process that can be aid­ed and refined by devel­op­ing habits of visu­al obser­va­tion. To help rein­force this par­al­lel and use it to scaf­fold the writ­ing of the col­lab­o­ra­tive essay, I passed out copies of John Bean's descrip­tion of "The Com­pos­ing Process­es of Expert Aca­d­e­m­ic Writ­ers."(5) Bean pro­pos­es that becom­ing an "expert" aca­d­e­m­ic writer—a goal that held as much impor­tance for me as the desire to help the class become famil­iar with the themes of the course—involves the fol­low­ing phas­es: the per­cep­tion of a prob­lem, explo­ration, incu­ba­tion, writ­ing the first draft, refor­mu­la­tion or revi­sion, and edit­ing. Sure­ly this isn't the only way to cat­e­go­rize this process, but it lent us a struc­ture that helped us to iden­ti­fy the tasks and chal­lenges we might con­front as the project unfold­ed.
The class mem­bers began the col­lab­o­ra­tive essay process by respond­ing to three images that inter­est­ed each of them indi­vid­u­al­ly.
Image 1: Mak­er unknown, sub­ject unknown (Native Amer­i­can man armed with rifle), ninth plate daguerreo­type (cir­ca 1845), col­lec­tion of the Har­vard Peabody Muse­um.
A stu­dent who chose Image 1 not­ed, "The way he is wear­ing the clothes is an odd mix­ture of Euro­pean and Native Amer­i­can fash­ion. I do not recall ever see­ing a man dressed like this in anoth­er pho­to."
Image 2: Mak­er unknown, sub­jects unknown, tin­type (cir­ca 1886), col­lec­tion of Greg French.
Anoth­er stu­dent, who was drawn to a por­trait of two African Amer­i­can women ele­gant­ly dressed and pos­ing in front of a scene of New York (Image 2), wrote, "I'm won­der­ing whether this pho­to indi­cates the desire of free­dom for African Amer­i­cans, or por­trays that these priv­i­leges are only shown in the 'back­ground' (hence unat­tain­able) for their liv­ing cir­cum­stances."
Image 4 (see below) attract­ed the most atten­tion. One stu­dent wrote, "I thought it was strange real hair was used to frame the pho­to, and am curi­ous to pos­si­bly find out whose hair it could have been." In a writ­ing exer­cise that I called, refer­ring to Bean's stages, "Our Per­cep­tion of the Prob­lem," I prompt­ed each stu­dent to devise ques­tions based on com­mon­al­i­ties they saw across mul­ti­ple pho­tos. Two ear­ly ques­tions we arrived at were "What were children's views on race? Did they sense racial dis­par­i­ty in the same ways as adults?" and "How do each of the images com­mu­ni­cate some­thing about the notion of 'pos­ses­sion'?"
In the explo­ration phase, the writ­ers looked at the images that drew their atten­tion and tried to group them accord­ing to themes, sit­ters, and any his­tor­i­cal con­text they could gath­er. The main chal­lenge of this phase was turn­ing a the­mat­ic inquiry into one that is actu­al­ly research­able. The dis­cus­sion of depic­tions of care­tak­ing in the essay that fol­lows was one way that the stu­dents were able to for­mu­late a more con­crete, research­able approach to the broad ques­tions we devised ear­ly on. While explo­ration requires writ­ers to focus on the "prob­lem," in an incu­ba­tion phase, which I imag­ined as unfold­ing out­side our week­ly class meet­ings, the writ­ers turn their focus away from the spe­cif­ic research ques­tion at hand to explore oth­er images in the archive, read sam­ple essays on the Mir­ror of Race site, think more about what attract­ed them to cer­tain images, and return to course texts from ear­li­er in the semes­ter. Over the course of the first three weeks of the project, we moved back and forth between explor­ing pos­si­ble ways of answer­ing our "prob­lem" ques­tions and then stepped away ("incu­bat­ed") to see if any new avenues for explo­ration arose. In Appen­dices A and B, I pro­vide a for­mal project sched­ule as well as a guide that I gave to the stu­dents to remind them of the way the project sched­ule was unfold­ing in tan­dem with our writ­ing process.
The atten­tion to com­pos­ing process­es that this assign­ment demand­ed was sup­port­ed by our use of a wiki. The class wiki, which I cre­at­ed for free at www.wikispaces.com, was a col­lab­o­ra­tive web­site that allowed all reg­is­tered users (myself and the mem­bers of the class) to cre­ate and edit its con­tent simul­ta­ne­ous­ly, keep­ing a record of each user's activ­i­ty. Whether stu­dents were togeth­er in the com­put­er lab, at home, or on their lap­tops or phones on their way to school or work, they could add to and revise our doc­u­ment from any­where that had an Inter­net con­nec­tion. We began using the wiki reg­u­lar­ly when we reached the first draft phase. From what I could tell, this had three main effects on the stu­dents' writ­ing. First, giv­en that each stu­dent was required to con­tribute to the wiki (and that every­one, includ­ing me, could see their con­tri­bu­tions), that meant they had to start draft­ing ear­ly.(6) Sec­ond­ly, using the wiki forced us to cre­ate sub­head­ings to dif­fer­en­ti­ate mate­r­i­al in the unstruc­tured space on the screen, mark indi­vid­ual con­tri­bu­tions, and notice how some parts of the draft were built around quotes from out­side sources, while oth­ers evolved through writ­ers' reflec­tions on the images. From mass­es of text, the stu­dents began to iso­late the­mat­ic sec­tions and cre­ate a work­ing out­line (a good way to dis­pel the myth held by many novice writ­ers that out­lines and the­ses are ful­ly formed before a writer begins draft­ing!). One of the writ­ers, Zuaera, reflect­ed that the process of using the wiki allowed her "to explore a unique form of research­ing, orga­niz­ing, and con­struct­ing an essay. It was encour­ag­ing," she wrote in an end-of-semes­ter reflec­tion, "to know that some­one along­side me [was] also par­tic­i­pat­ing [at] the same pace [that I was]." Anoth­er writer, Kristie, admit­ted that when writ­ing on her own she some­times for­got the orig­i­nal ques­tion she had set out to answer. "With the wiki it is impos­si­ble to get off top­ic with oth­er people's work forc­ing you to stay on top­ic. In the end everyone's work has to com­bine seam­less­ly with your own work, so it is always obvi­ous when you are mov­ing away from the point the essay is try­ing to make." The third effect of com­pos­ing on the wiki, then, was that it shed light on the often veiled phas­es of the writ­ing process. As the stu­dents added mate­r­i­al to the wiki, I would mod­el the type of feed­back I hoped they would give to each oth­er. I insert­ed ques­tions next to sec­tions of text, and often asked spe­cif­ic stu­dents to draw con­nec­tions across sec­tions of the doc­u­ment that oth­er stu­dents had cre­at­ed. This rein­forced a col­lab­o­ra­tive process of tri­al and error, one that under­scored that the stu­dents them­selves were con­trol­ling the form and con­tent of the writ­ing rather than answer­ing a pre-designed prompt. To view a screen­shot of our wiki, see Appen­dix C.
Once we shaped a nar­ra­tive that could accom­mo­date var­i­ous seg­ments of the draft, the col­lab­o­ra­tive space of the wiki made it eas­i­er to syn­the­size mul­ti­ple writ­ers' voic­es. This extend­ed the stage of refor­mu­la­tion or revi­sion—some­thing that less expe­ri­enced writ­ers some­times devote lit­tle time to when com­pos­ing on their own. Even if a writer per­ceived that her indi­vid­ual sec­tion was "com­plete," she still had the task of inte­grat­ing it into what oth­ers had writ­ten, which usu­al­ly led to decon­struct­ing and rear­rang­ing mate­r­i­al she thought would stand on its own. Many drafts lat­er, pol­ish­ing the essay was part of an edit­ing phase that reached beyond the bound­aries of the fall semes­ter. Return­ing to this essay has remind­ed me of the recur­sive nature of the com­pos­ing process; while I lim­it­ed my edits to issues of gram­mat­i­cal struc­ture and tone, revis­it­ing indi­vid­ual sen­tences led me to con­sid­er ways we might have recast the essay as a whole.
As I write this intro­duc­tion, now more than a year after the course has end­ed, the essay's three authors, Zuaera, Kristie, and Shi­ra, have grad­u­at­ed from Queens Col­lege or are approach­ing grad­u­a­tion. The piece that fol­lows reflects their work as of Jan­u­ary 2012, when we first sub­mit­ted the essay to the Mir­ror of Race project. As I received rounds of edits from review­ers in the months that fol­lowed, I shared them with the writ­ers. Though I could not in good faith ask them to com­mit to exten­sive revi­sions of the essay after the course end­ed, giv­en their oth­er respon­si­bil­i­ties, they expressed excite­ment about the pos­si­bil­i­ty that their ideas would be shared with a pub­lic audi­ence. I would like to thank Gre­go­ry Fried and the mul­ti­ple anony­mous review­ers of this piece for their use­ful feed­back and for pro­vid­ing my stu­dents with more than one audi­ence for their work.
Recent­ly, I returned to a prompt I assigned at the end of the first week of "Pic­tur­ing the Invis­i­ble." I asked the class mem­bers to choose one of the units on the syl­labus sched­ule and to describe how they imag­ined we would talk about "visu­al evi­dence" in that unit. Shi­ra, who antic­i­pat­ed the unit about race, said she believed pho­to­graph­ic por­traits com­pli­cate our attempts to learn more about oth­er peo­ple. On the one hand, "the per­son with whom we are inter­act­ing, or whom we form ideas about, gets cut off from the pos­si­bil­i­ty of being some­one more than we pic­ture them to be." And yet, she added, "Hav­ing a pic­ture or pho­to­graph of some­one … gives us time and the chance to make an effort at tru­ly observ­ing the per­son, and find­ing out who they are." Ulti­mate­ly, our sus­tained rela­tion­ship with spe­cif­ic pho­tos in the Mir­ror of Race exhi­bi­tion gave me and my stu­dents the oppor­tu­ni­ty to reflect on the ways we were posi­tioned as view­ers. We became con­scious that we might be eas­i­ly mis­led by a back­drop, a cos­tume choice, or a tonal val­ue. Ulti­mate­ly, we came to see the pho­tos in the exhi­bi­tion less as mir­rors of some "real thing" and more as palimpses­ts, in which an ongo­ing, lay­ered project of self-mak­ing is frozen in a set of sur­face fea­tures.
Mir­ror­ing Moth­er­hood
By Zuaera Bushra, Kristie Espos­i­to, and Shi­ra Frager,
with Dominique Zino
Way down yon­der
Down in the mead­ow
There's a poor lit­tle lam­bie,
The bees and the but­ter­flies
Peck­ing out its eyes
The poor lit­tle thing called Mam­my.
(From a nine­teenth-cen­tu­ry lul­la­by)
A woman's role in the nine­teenth cen­tu­ry was large­ly defined by being a good wife and moth­er, main­ly act­ing as a moral guardian of the chil­dren who need­ed to be cher­ished and nur­tured.(7) ‍‍‍‍Rec­og­niz­ing that the con­cept of moth­er­hood was one that was thought to uni­fy women, abo­li­tion­ists cap­i­tal­ized on this poten­tial for uni­ty when they cre­at­ed The Lib­er­ty Bell in 1839, a gift book and pro­pa­gan­da piece that sup­port­ed the anti­slav­ery move­ment. The writ­ers took the notion of "true moth­er­hood" that had tra­di­tion­al­ly lim­it­ed a woman's role as a pub­lic activist and used it to give moth­ers a ratio­nale for putting an end to slav­ery.(8) As the mean­ing of "true moth­er­hood" was to love all chil­dren as if they were one's own, a "true moth­er" would nev­er allow a child to suf­fer as slave chil­dren did. Thus, The Lib­er­ty Bell "called for white women to act from the per­sona of moth­er and implic­it­ly worked to under­mine slav­ery by fram­ing moth­er­hood in terms of a love for all chil­dren, includ­ing slaves."(9)
This def­i­n­i­tion of "true moth­er­hood" worked well for white women, but black moth­ers lived rad­i­cal­ly dif­fer­ent lives than many white moth­ers of the nine­teenth cen­tu­ry. As schol­ar Leslie Har­ris notes, while white and black women shared a "same­ness of iden­ti­ty" as moth­ers, the dif­fer­ence in their socioe­co­nom­ic con­di­tions made their posi­tions dif­fi­cult to rec­on­cile. Slave fam­i­lies nor­mal­ly did not stay togeth­er long, if at all, which led black moth­ers to devel­op dif­fer­ent ideas of what being a "true moth­er" meant. ‍‍A slave who was a moth­er was not nec­es­sar­i­ly expect­ed to be phys­i­cal­ly present for her own chil­dren. She was either required to work the fields or take care of the white master's chil­dren while her own were cared for by the wife of her mas­ter, by old­er slave chil­dren, or by elder­ly slaves inca­pable of work­ing the fields. Black women who took care of white chil­dren oth­er than their own were giv­en the name "mam­mies." In return, these mam­mies were respon­si­ble for uphold­ing high stan­dards of the white fam­i­ly as well respon­si­ble for enforc­ing the family's moral val­ues and beliefs with­in the home.(10)
For the cre­ators of The Lib­er­ty Bell, "true moth­er­hood" became a com­pelling con­cept to cre­ate a con­nec­tion between black and white moth­ers and to ulti­mate­ly con­vince white women of the need to end slav­ery. How­ev­er, the effec­tive­ness of the con­cept of "true moth­er­hood" as a uni­fy­ing force is com­pli­cat­ed (and lim­it­ed) by the fact that it over­looks the ambigu­ous, mater­nal posi­tion of the "mam­my." Our analy­sis of moth­er­hood in the nine­teenth cen­tu­ry focus­es on the iden­ti­ty of the female care­tak­er as it is rep­re­sent­ed in a series of four images from the Mir­ror of Race exhi­bi­tion. Each pho­to we have select­ed sug­gests var­i­ous inter­pre­ta­tions of what the role of the care­tak­er might have been with­in the fam­i­ly she served. As the "mam­my" fig­ure becomes fur­ther real­ized through the images, the def­i­n­i­tion of "true moth­er­hood" becomes more obscure because of the com­pli­cat­ed rela­tion­ship the mam­my would have had with the white chil­dren she was forced to care for as if they were her own. ‍‍‍‍ This woman's unique posi­tion as care­tak­er might have rein­forced the bio­log­i­cal mother's role, cre­at­ing last­ing bonds between black and white moth­ers or between black care­tak­ers and their white charges, though it might also have pro­vid­ed a black woman with an oppor­tu­ni­ty for sub­ver­sion or a chance to test out a new and more author­i­tar­i­an iden­ti­ty.
"Mam­mies" often had chil­dren them­selves, or in some cas­es were chil­dren long­ing to be back with their own moth­ers. The epi­graph to this essay is from a lul­la­by that mam­mies used to soothe their white charges to sleep while simul­ta­ne­ous­ly mourn­ing their sep­a­ra­tion from their own chil­dren. "Hushabye, don't you cry / Go to sleep, lit­tle baby," the song begins, as the vers­es grad­u­al­ly con­flate the mammy's role as care­tak­er of anoth­er woman's chil­dren with her long­ing for her own chil­dren. Through the lul­labye, the mam­my empathizes with her nat­ur­al children's sense of being desert­ed by their moth­er.(11)
Black mam­mies were often stereo­typed as "figure[s] who cus­tom­ar­i­ly st[oo]d for con­cil­ia­to­ry behav­ior and hege­mon­ic loy­al­ty."(12) They com­mon­ly received more respect and lived more lux­u­ri­ous­ly than oth­er ser­vants or slaves, occu­py­ing a more secure posi­tion with­in the fam­i­ly struc­ture. His­to­ri­an Lynn Hudson's recent study, The Mak­ing of Mam­my Pleas­ant (2003), for exam­ple, fea­tures a black woman and bud­ding entre­pre­neur, Mary Ellen Pleas­ant, who main­tained her domes­tic role even as she became a busi­ness­woman. "Pleasant's wealth chal­lenged both racial and gen­der stereo­types and made her a high­ly vis­i­ble and vul­ner­a­ble mem­ber of San Francisco's black com­mu­ni­ty; by delib­er­ate­ly pro­mot­ing her­self as a mam­my, Pleas­ant sought to con­ceal her suc­cess from the white com­mu­ni­ty and shield her­self from white suprema­cists' attacks."(13) The image of a mam­my as a pas­sive, non­threat­en­ing nur­tur­er seemed irrec­on­cil­able with the pos­si­bil­i­ty that she might chal­lenge the socioe­co­nom­ic posi­tion of a wealthy white fam­i­ly. Yet the images we have cho­sen sug­gest vary­ing posi­tions of pow­er and infe­ri­or­i­ty in rela­tion­ships between mam­mies and their white charges. In each pic­ture the care­tak­er is hold­ing the baby as if she was plac­ing the white child on display—at times with dis­tinct pride, even pos­ses­sive­ness.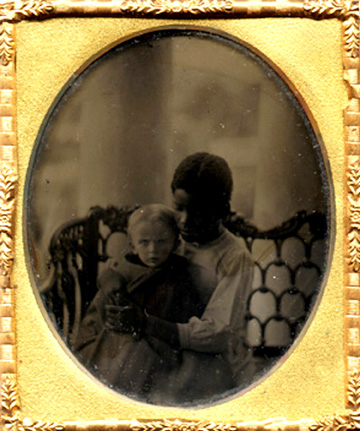 Image 3: Mak­er unknown, Julian C. Gilke­san and sub­ject unknown, sixth-plate ambrotype (cir­ca 1861–65), col­lec­tion of Greg French; back inscribed "Julian C. Gilke­san as infant, Mooresville, W.V" and like­ly tak­en at the family's home.
In the ambrotype of Julian C. Gilke­san as infant (Image 3), it seems Julian has been placed in the care of a black child. The black child prob­a­bly belongs to a slave or a black ser­vant work­ing for Julian's fam­i­ly. Accord­ing to schol­ar Geral­dine Youcha, these chil­dren who watched their mas­ters' chil­dren usu­al­ly missed out on their own child­hoods.(14) Youcha recounts the sto­ry of one woman from Alaba­ma, Cheney Cross, who was a child nan­ny for her master's chil­dren: "I was brung up right in da house wid my white folks," Cross said. "I slept on a lit­tle trundler bed what pushed up under de big bed, dur­ing the day. I watched over dem chillen day and night. I washed 'em and fed 'em and played wid 'em …" Even minor neglect of duty toward the white child was often pun­ished by the stan­dard reproach—whipping. In Image 6 the black child looks the part of the duti­ful ser­vant. Her face does not dis­play any hap­pi­ness or fond­ness she might feel toward the child. One pos­si­ble read­ing of the pho­to is that she does enjoy rais­ing her master's child as her own sib­ling, but it more like­ly she is doing her job by prepar­ing to become a mam­my in the future. There is noth­ing to indi­cate the two chil­dren are enjoy­ing each other's com­pa­ny. Instead, the pho­to indi­cates how young a black girl might have been when expect­ed to adopt a mater­nal role. This ear­ly start to the rela­tion­ship might be the cause for the estab­lished bond we can see between old­er black care­tak­ers and chil­dren in the oth­er images we have select­ed.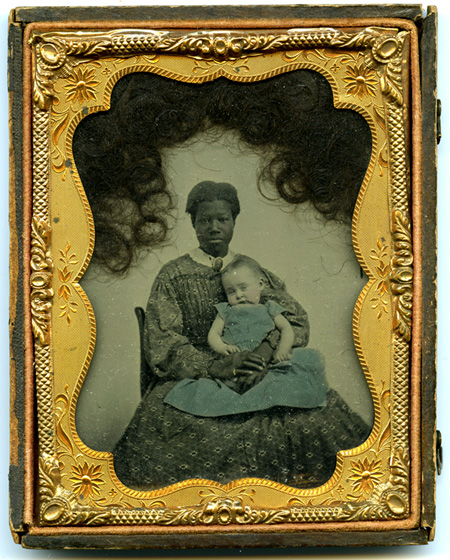 Image 4: Mak­er unknown, sub­jects unknown, quar­ter-plate ambrotype (cir­ca 1860), col­lec­tion of Greg French.
Image 4, the ambrotype with the child, mam­my, and the locks of hair, becomes more mys­te­ri­ous the more deeply it is exam­ined. While the white child is in the cen­ter of the frame, it is the nan­ny who meets our gaze while the child is limp and life­less. Here, the mam­my dis­plays more of a moth­er­ly com­fort with the child than what we see in the pre­vi­ous image—a care­tak­er become moth­er. If we read through this (lit­er­al and con­tex­tu­al) frame, what do we make of the hair plas­tered between the pho­to­graph and the case, arranged as some kind of halo above the two fig­ures? Per­haps it belongs to the child, though the tex­ture of the hair looks too coarse to be that of a child. If the hair belongs to the mam­my, then this indi­cates the impor­tant place she held in the fam­i­ly, even as a black woman. The blue col­or of the baby's cloth­ing draws our atten­tion to the child, fur­ther sug­gest­ing the intent to high­light the baby, and yet the mammy's show of affec­tion, her crossed hands wrapped around the child, and her direct gaze are the most engag­ing aspects of the image. Though every­thing about this image is unknown, down to the anony­mous pho­tog­ra­ph­er, the pho­to does dis­play a sense of "moth­er­hood." Unlike Image 3, in which the baby is stern­ly and uncom­fort­ably look­ing into the cam­era, here the sense of con­trol (between care­tak­er and child and between view­er and sit­ter), seems to turn on the mam­my. The baby trusts the mam­my enough to fall asleep in her arms, as if she has done it many times before. Lin­ing the frame with human hair fur­ther per­son­i­fies and invites us to share in that trust.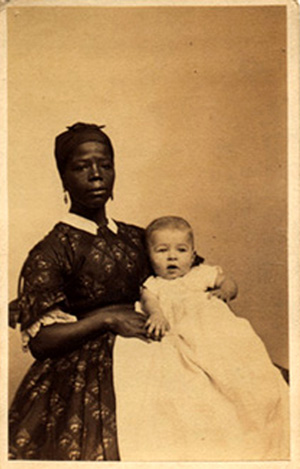 Image 5: S. Masury, sub­jects unknown, carte-de-vis­ite albu­men print, c. 1858–1867. Back Inscribed "S. Masury, Pho­tog­ra­ph­er, 289 Wash­ing­ton St., Boston"; col­lec­tion of Greg French.
In the carte-de-vis­ite of the white infant and her black nan­ny (Image 5), a view­er might see pride in the mammy's pos­ture. Alter­na­tive­ly, might she be exhibit­ing the com­pli­ant com­po­sure of one who is doing what she's been told? As care­tak­er and infant meet the cam­era with their gazes, our own eyes are led diag­o­nal­ly across the image between the expres­sion on the infant's face and the unsmil­ing face of the old­er woman. Her dark dress and skin pro­vide a dark back­drop for the baby's white garb and porce­lain fin­gers; her upright pos­ture makes her a pil­lar of sol­i­dar­i­ty and poise, restraint and, per­haps, self-cen­sor­ing, as much as the baby's expres­sion embod­ies an air of new life and youth­ful squirmi­ness.
A pho­tog­ra­ph­er, accord­ing to schol­ar Geof­frey Batchen, not only has to pho­to­graph, but "biographe" his or her sub­ject assum­ing a cer­tain sta­tus and lifestyle in order to cre­ate more suc­cess­ful­ly the pic­ture of the per­son. In the sec­ond half of the nine­teenth cen­tu­ry in par­tic­u­lar, cus­tomers often chose spe­cif­ic back­drops, cos­tumes, and props for their pos­es. Although these images were prob­a­bly paid for by the fam­i­lies, mam­mies may have been giv­en options for pos­ing with the chil­dren for whom they cared while in the stu­dio.(15) How­ev­er, of the images dis­cussed so far, only Image 3 pro­vides some hint—the ornate cast-iron bench, the columns in the back­ground, per­haps a porch out­side the patron's home—of the fam­i­ly life to which the sit­ters belonged. Each of the oth­ers is left dis­tinct­ly non­de­script, ensur­ing the bio­graph­i­cal details about the black mam­my do not inter­fere with the cen­tral focus on the child. Batchen notes that the bland­ness of cartes-de-vis­ite in par­tic­u­lar was often thought to be lim­it­ing to view­ers, leav­ing lit­tle to no room for imag­in­ing the lives of the sit­ters. While the con­sis­tent lack of orig­i­nal­i­ty in cartes-de-vis­ite has led pho­to­graph­ic his­to­ri­ans such as Beau­mont Newhall and Mary Warn­er Marien to con­clude that the pho­tos pro­vide no pur­pose and no per­son­al appeal for view­ers, Batchen notes that the carte-de-vis­ite was also con­sid­ered a com­mod­i­ty, and CDV por­traits were wide­ly exchanged among those cus­tomers for whom they once did actu­al­ly mat­ter. Sub­jects adopt­ed a cer­tain pose, learn­ing how to look "like them­selves," result­ing in the rep­re­sen­ta­tion of class as a mode of per­for­mance as opposed to inher­i­tance; as Batchen says, sit­ters "adopt a look that is famil­iar to them," as part of a social role they want to embody. (16) Cartes-de-vis­ite were also meant to be touched as well as seen. It is like­ly that pho­tog­ra­ph­er, patron, and sit­ters were all aware that such cartes-de-vis­ite would be repro­duced and cir­cu­lat­ed, unlike the pri­vate exchange that might have occurred around the hair-framed ambrotype. The rep­re­sen­ta­tion of a par­tic­u­lar class struc­ture and way of life bestows cartes-de-vis­ite with an air of per­for­mance. In Image 4, var­i­ous sources—including bio­log­i­cal moth­ers and oth­er caretakers—may have con­tributed to the learned per­for­mance of the "mam­my."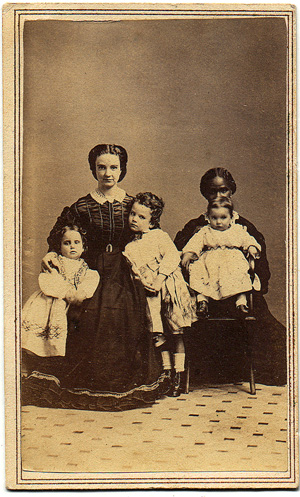 Image 6: S. Ander­son, sub­jects unknown, carte-de-vis­ite albu­men print, cir­ca 1858–1867. Back inscribed "S. Ander­son, Pho­tog­ra­ph­er, No. 61 Camp St., New Orleans"; col­lec­tion of Greg French.
Our assump­tion that each pic­ture was tak­en for a spe­cif­ic pur­pose is cru­cial to con­struct­ing mean­ing around these pho­tos. "Images of chil­dren, child rear­ing, and moth­er­hood do not spring from nature, nor are they ran­dom," Leslie Har­ris notes.(17) Of all the black women in the images, none are pic­tured with their own chil­dren. They are depict­ed not as moth­er fig­ures but as ser­vants to moth­ers. In Image 6, we see what appears to be a white moth­er of three, embrac­ing two chil­dren who are (some­what rigid­ly) lean­ing against her. It was tak­en between 1858 and 1867 in Samuel Anderson's stu­dio in New Orleans, and one like­ly sce­nario is that the black woman in the back right of the pho­to is a slave to the white fam­i­ly. She is dis­tinct­ly depict­ed as sub­or­di­nate to the white woman, and the white chil­dren as well. As in the oth­er images, it appears her pur­pose is not to be a part of the pho­to, but to make sure the youngest child remains on the high chair where she has been propped. Blocked by the baby she is hold­ing, she is rep­re­sent­ed as hav­ing even less agency than the infant.(18) Unlike the white woman who is being cud­dled by her chil­dren, the black woman is being ignored by every­one in the pho­to and is shown no affec­tion. Though she is star­ing dogged­ly at us, no one is look­ing at her. Unlike the oth­er images of the chil­dren and mam­my fig­ures, there is noth­ing to sug­gest that the slave woman is also a moth­er. No bond is shown between the mam­my and the chil­dren. Instead she has been lit­er­al­ly and fig­u­ra­tive­ly dis­placed by the bond that is being adver­tised between the "true" moth­er and her chil­dren.
Schol­ar Dorothy Roberts points out that the image of black moth­er­hood is a com­pli­cat­ed one in Amer­i­can cul­ture. "Amer­i­can cul­ture reveres no Black Madon­na," Roberts argues. "It upholds no pop­u­lar image of a black moth­er ten­der­ly nur­tur­ing her child."(19) This pho­to does not pro­vide evi­dence of Harris's con­cept of black and white moth­ers shar­ing a "same­ness of iden­ti­ty." Instead, Image 6 depicts the oppo­site: the white woman is the gen­tle and nur­tur­ing moth­er, and the black woman is the sub­mis­sive slave. Moth­er­hood for black women was "con­nect­ed and root­ed in a social sys­tem of bondage," soci­ol­o­gist Mar­ci Lit­tle­field notes. "[B]lack women [gave] birth to prop­er­ty and white women produc[ed] heirs and lead­ers."(20) More­over, art his­to­ri­an Gwen­dolyn DuBois Shaw has iden­ti­fied the extent to which African Amer­i­cans' pres­ence in Amer­i­can pho­tographs rein­forced rather than exposed and dis­count­ed cer­tain stereo­types. Shaw explains that the main func­tion of the appear­ance of African Amer­i­can sit­ters in the same pho­tographs with their own­ers or mas­ters dur­ing the nine­teenth cen­tu­ry was to exploit the idea of racism and whites' supe­ri­or­i­ty over blacks. "[D]ark, servile, and often phys­i­cal­ly exag­ger­at­ed coun­ter­parts served sole­ly to accen­tu­ate the beau­ty or pow­er of the col­o­niz­ing mas­ter or mis­tress," Shaw observes.(21) In oth­er words, the pres­ence of black mam­mies in pho­tographs did not nec­es­sar­i­ly make them more vis­i­ble but, on the con­trary, autho­rized a mas­ter as the own­er of both the body and the image of his or her slaves.
The nine­teenth-cen­tu­ry moth­er was judged by the appear­ance of her fam­i­ly, espe­cial­ly her chil­dren. Since moth­er­hood for a white woman was viewed as her "priv­i­lege and social sta­tus," her wealth and stand­ing are pre­sent­ed through her chil­dren and her black nan­ny. In Image 6 the child could have been left in a high chair next to its moth­er but we might read the caretaker's pres­ence as an indi­ca­tor of the family's sta­tus. In a carte-de-vis­ite made to be cir­cu­lat­ed rather than pri­vate­ly cher­ished, the expres­sion of the white moth­er sug­gests an effort to dis­play her prop­er­ty: a bud­ding fam­i­ly, well-groomed chil­dren, and a hired (or enslaved) "mam­my."
As a group, these por­traits sug­gest the ways black moth­ers were restrict­ed in their abil­i­ty to gain a sense of author­i­ty and iden­ti­ty through their posi­tion as care­tak­ers. The last of our four images might serve as a reminder that, to the pub­lic eye, "mam­mies" remained mater­nal stand-ins. They were present when need­ed but oth­er­wise tak­en for grant­ed as just anoth­er mech­a­nism with­in the work­ing fam­i­ly unit rather than an influ­ence on the devel­op­ment of the chil­dren. (Even The Lib­er­ty Bell, which fought to end slav­ery by cap­i­tal­iz­ing on the uni­fy­ing con­cept of "true moth­er­hood, per­pet­u­at­ed a view of the slave moth­er as a per­pet­u­al vic­tim who had lit­tle agency while she wait­ed to be saved."(22) How­ev­er, the oth­er three images also remind us that the tight bonds between care­tak­ers and a family's most prized possession—its children—might serve as the key to those care­tak­ers' enhanced author­i­ty and agency, to their inti­mate and poten­tial­ly sub­ver­sive posi­tion with­in the white fam­i­ly struc­ture.
If we turn back to the face of the "mam­my" from Image 4, we might see an echo of the expres­sion of the woman we pre­sume to be the bio­log­i­cal moth­er in Image 6. Whether both women might be inten­tion­al­ly mim­ic­k­ing pos­es of "true" moth­er­hood or assert­ing their respec­tive author­i­ty as inde­pen­dent pro­tec­tors and care­tak­ers, we can­not know—visually and his­tor­i­cal­ly, the two are inex­tri­ca­bly bound. At the very least, how­ev­er, view­ing these images togeth­er offers a chance to recon­struct a rich­er nar­ra­tive around them than can be gained by look­ing at any one alone. Col­lec­tive­ly, they sug­gest the ways pho­tog­ra­phy par­tic­i­pat­ed in a per­for­mance of "mir­ror­ing moth­er­hood" in the sec­ond half of the nine­teenth cen­tu­ry.
APPENDIX A: Com­pos­ing a Col­lab­o­ra­tive Essay: Our Mir­ror of Race Assign­ment Sequence
Thurs­day, Novem­ber 3rd: Brain­storm­ing work­shop
Selec­tion of images and dis­cus­sion of what attract­ed us to them.
Mon­day, Novem­ber 7th: Lec­ture by Greg Fried, the cre­ator of Mir­ror of Race
12:15–1:30 pm, Rosen­thal Library, President's Con­fer­ence Room 2 (5th floor).
Tues­day, Novem­ber 8th: Meet in com­put­er lab (room TBA) for research ses­sion
This research ses­sion will be devot­ed to col­lect­ing infor­ma­tion about the ori­gin, genre, and sub­ject mat­ter of the images we've select­ed (or ones that are sim­i­lar). Each of you will leave with a list of texts that you will acquire, read, and anno­tate over the next week.
Tues­day, Novem­ber 15th: Anno­tat­ed bib­li­og­ra­phy due
You will be respon­si­ble for record­ing full bib­li­o­graph­ic entries for each of your texts (in MLA for­mat) and includ­ing a one-para­graph anno­ta­tion that sum­ma­rizes how each fur­thered your analy­sis of the images as a group. Each of you will present your anno­tat­ed bib­li­og­ra­phy in class on the 15th. Based on this col­lec­tive lit­er­a­ture review, we will begin to deter­mine a focus and struc­ture for our essay.
Wednes­day, Novem­ber 16th–Thursday, Decem­ber 1st: Com­pos­ing
Each stu­dent will be expect­ed to work indi­vid­u­al­ly on his or her 4–5 page por­tion of the essay, updat­ing the wiki on our course blog at least two or three times over the course of these two weeks.
Thurs­day, Decem­ber 1st: Revi­sion Work­shop
The goal of this ses­sion will be to cut down our text to Mir­ror of Race's sug­gest­ed 15-page lim­it. We will work togeth­er to edit our sec­tions of the text in col­lab­o­ra­tion in order to extract main ideas, clar­i­fy and com­press our inter­pre­ta­tions, min­i­mize rep­e­ti­tion, craft tran­si­tions, and sum­ma­rize our argu­ment.
Tues­day, Decem­ber 6th: Col­lab­o­ra­tive essay due before the start of class today; process reflec­tion
After turn­ing in the essay, you will answer a series of ques­tions about your com­pos­ing process and share your respons­es. (I may sum­ma­rize these respons­es as an adden­dum to our essay.)
Thurs­day, Decem­ber 8th: From paper to abstract
In class we'll work toward sum­ma­riz­ing our essay in a 300-word abstract that we can send to the Mir­ror of Race project so that we can intro­duce Dr. Fried and oth­er future read­ers to our argu­ment in the essay.
APPENDIX B: Iden­ti­fy­ing and Under­stand­ing our Com­pos­ing Process­es
Stage 1: Our per­cep­tion of the "prob­lem" (Nov. 3rd–Nov. 15th)
Over the last few weeks, we've con­tin­ued to return to the images in the Mir­ror of Race exhi­bi­tion to iden­ti­fy pho­tographs that attract our atten­tion. Here are two the­mat­ic ques­tions we've arrived at that we might apply to the images we have found inter­est­ing and provoca­tive:
· What were children's views on race? Did they sense racial dis­par­i­ty in the same ways as adults?
· How does each of the images express some­thing about the notion of "pos­ses­sion"?
Stages 2, 3, and 4: Explo­ration, Incu­ba­tion**, and Writ­ing the First Draft (Nov 17th–Nov. 29th)
Overview: To begin com­pos­ing our draft, each of you will select and respond to a ques­tion set that allows you to explore one image in depth, post­ing your respons­es (of at least 600 words) on the wiki by this Tues­day, Nov. 22nd.
Sam­ple explorato­ry prompt for Image 3
Image con­tent: We have a name for the child in the pic­ture. What can you find out about him? Dur­ing what years did he live? Did he leave behind any let­ters, diaries, jour­nals that can be found in print?
Themes and the­o­ret­i­cal con­cepts: The genre of the baby por­trait in the nine­teenth cen­tu­ry is one you'll want to read more about. Return to the Shawn Michelle Smith arti­cle in our read­er, "Baby's Pic­ture Is Always Trea­sured," to look for rel­e­vant the­o­ret­i­cal con­nec­tions to Smith's argu­ment about pho­tog­ra­phy and eugen­ics.
Con­nec­tions: After respond­ing to the first two ques­tions, what con­nec­tions do you see between this one and oth­ers in our group? Oth­ers in the exhi­bi­tion? Are there any par­tic­u­lar­ly com­pelling con­nec­tions you see with an image that has not made our "final cut"?
**On "Incu­ba­tion" and the writ­ing process
After respond­ing to the prompts for your image, read oth­ers' respons­es. Then step back from the pho­tos. Con­sid­er our selec­tion process: are there still alter­ations or adjust­ments to our group­ing we want to make before mov­ing for­ward? As you move between the "explo­ration" and "incu­ba­tion" stages and the writ­ing of the draft, try to be as spe­cif­ic as pos­si­ble as you respond to indi­vid­ual images and to the group. Also, once you've got­ten 600+ words down in writ­ing, con­sid­er how your seg­ment is going to fit into your class­mates' writ­ing. How might we begin to orga­nize our col­lec­tive draft? What pieces might we need to move around, rewrite, scratch, or extend?
APPENDIX C: A screen­shot of the Wiki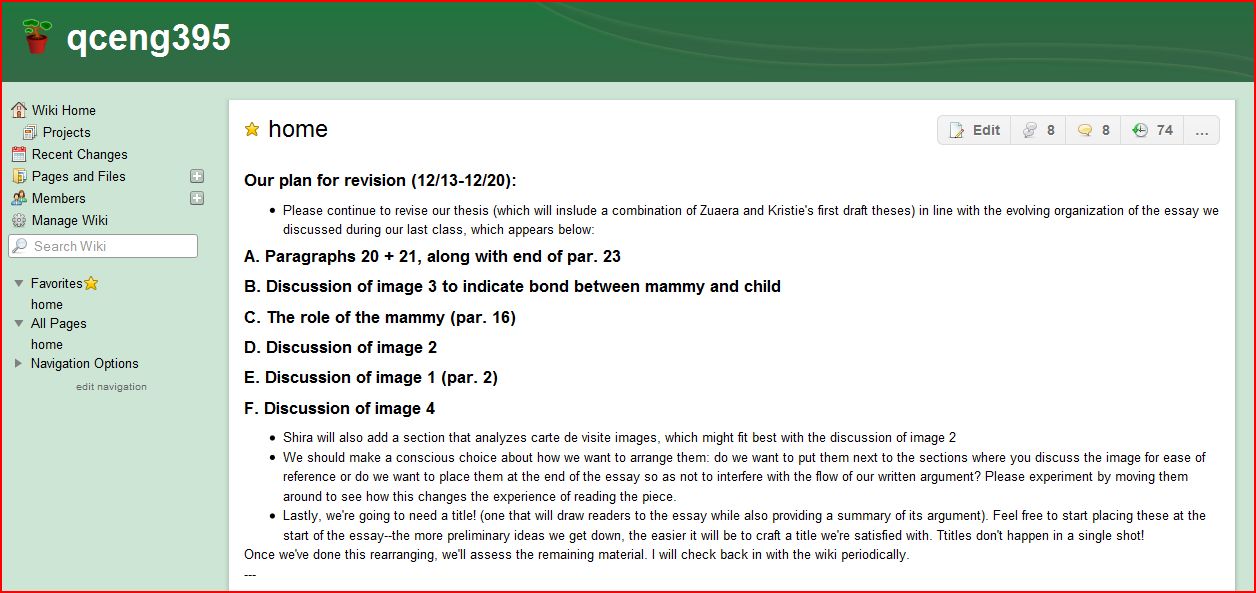 (1) Accord­ing to the Queens Col­lege Aca­d­e­m­ic Sen­ate, a "W" course must meet the fol­low­ing cri­te­ria: "1) 10–15 pages of eval­u­at­ed writ­ing in three or more assign­ments. 2) Some atten­tion to writ­ing in class, in one or more of the fol­low­ing pos­si­ble ways: dis­cussing papers before they are writ­ten and after they are returned; read­ing suc­cess­ful papers aloud; dis­cussing the rhetor­i­cal strate­gies or writer­ly qual­i­ties of course read­ings; using infor­mal, ungrad­ed writ­ing; offer­ing oppor­tu­ni­ties for stu­dents to give each oth­er feed­back on their work; dis­cussing goals for stu­dent writ­ing and eval­u­a­tion cri­te­ria. 3) Exams that include essay ques­tions. 4) Max­i­mum class size of 30 stu­dents."
My sec­tion of ENGL 395W was unusu­al with respect to class size. Only eight stu­dents enrolled, and six remained in the course after the third week. In fact, the col­lab­o­ra­tive for­mat for the fourth essay that was the basis of this piece was part of my attempt to keep the most reli­able par­tic­i­pants engaged with the mate­r­i­al and com­mit­ted to each oth­er and to me, giv­en that our class did not have the same atmos­phere as a more tra­di­tion­al 30-stu­dent course. To deal with this unique, some­times frus­trat­ing, sit­u­a­tion, I treat­ed the first few months of the course as a more con­ven­tion­al sem­i­nar, and the last six weeks as some­thing clos­er to an inde­pen­dent study. The class mem­bers whose atten­dance was less steady were assigned final projects to com­plete in Novem­ber while the oth­ers com­posed this essay.
(2) I owe this use of the term to Mary Ann Caws's The Art of Inter­fer­ence: Stressed Read­ings in Visu­al and Ver­bal Texts (Prince­ton, New Jer­sey: Prince­ton Uni­ver­si­ty Press, 1989), 3–9). Stressed image/text rela­tion­ships have been explored by W. J. T. Mitchell: "The word/image rela­tion is not a mas­ter method for dis­solv­ing … bor­ders [between word and image] or for main­tain­ing them as eter­nal­ly fixed bound­aries," Mitchell writes, "it is the name of a prob­lem and a problematic—a descrip­tion of the irreg­u­lar, het­ero­ge­neous, and often impro­vised bound­aries between 'insti­tu­tions of the vis­i­ble' (visu­al arts, visu­al media, prac­tices of dis­play and spec­ta­tion) and 'insti­tu­tions of the ver­bal' (lit­er­a­ture, lan­guage, dis­course, prac­tices of speech and writ­ing, audi­tion and read­ing)" ("Word and Image" in Crit­i­cal Terms for Art His­to­ry, eds. Robert Nel­son and Richard Shiff (Chica­go: Uni­ver­si­ty of Chica­go Press, 1996)).
(3) Eds. Vanes­sa R. Schwartz and Jeannene M. Przy­blys­ki (New York: Rout­ledge, 2004).
(4) By this point in the semes­ter, each stu­dent had already writ­ten three for­mal assign­ments based on prompts I assigned. The col­lab­o­ra­tive assign­ment was the first essay where we were gen­er­at­ing both the prompt and the writ­ing togeth­er. While the stu­dents were explor­ing the archive, they were also read­ing Ralph Ellison's Invis­i­ble Man (1952)—a nov­el that went beyond the chrono­log­i­cal reach of the oth­er course read­ings but that illus­trat­ed the themes of vis­i­bil­i­ty, invis­i­bil­i­ty, and the act of look­ing (at oth­ers and our­selves) quite well.
(5) Excerpt­ed from Engag­ing Ideas, first edi­tion (San Fran­cis­co: Jossey-Bass, 2001), 30–31.
(6) Bean empha­sizes that this is the moment when expert writ­ers "low­er expec­ta­tions. They do not try to make first drafts per­fect as they go." I tried to remind the class mem­bers of this reg­u­lar­ly.
(7) Hart­man, Dorothy W., "Women's Roles in the Late 19th Cen­tu­ry," in Con­ner Prairie Inter­ac­tive His­to­ry Park, Web, Novem­ber 20, 2011.
(8) Har­ris, Leslie J., "Moth­er­hood, Race, and Gen­der: The Rhetoric of Women's Anti­slav­ery Activism in The Lib­er­ty Bell Gift­books" in Women's Stud­ies in Com­mu­ni­ca­tion 32.3 (2009), 293–319. Aca­d­e­m­ic Search Com­plete. Web. Novem­ber 6, 2011.
(9) Har­ris, 303.
(10) Har­ris-Solomon, Amy, "In-home Child Care" in Child-Care, 2008. Web. Novem­ber 20, 2011.
(11) Youcha, Geral­dine, Mind­ing the Chil­dren: Child Care in Amer­i­ca from Colo­nial times to the Present (Cam­bridge, Mass­a­chu­setts: Da Capo, 2005), 56. Print.
(12) Hale, Antho­ny, "Nanny/Mammy: Com­par­ing Lady Gre­go­ry and Jessie Fauset" in Cul­tur­al Stud­ies 15.1 (2001), 161–172. Aca­d­e­m­ic Search Com­plete. Web. Novem­ber 27, 2011.
(13) Col­ley, Zoe A. "From Mam­my to School­marm: Chal­leng­ing Images of Women as Civ­il Rights Activists in Nine­teenth-Cen­tu­ry Amer­i­ca" in Gen­der & His­to­ry 18.2 (2006), 417–420. Aca­d­e­m­ic Search Com­plete. Web. Novem­ber 27, 2011.
(14) Youcha, 54.
(15) Batchen, Geof­frey, "Dreams of Ordi­nary Life: Cartes-de-vis­ite and the bour­geois imag­i­na­tion" in Pho­tog­ra­phy: The­o­ret­i­cal snap­shots, eds. J. J. Long, Andrea Noble, and Edward Welch (New York: Rout­ledge, 2009), 80–97.
(16) Batchen, 92.
(17) Har­ris, 300.
(18) An alter­na­tive read­ing might be that this image is part of the New Orleans abo­li­tion­ist cam­paign of images of "white slaves," where­in the black girl is pur­pose­ful­ly and dra­mat­i­cal­ly hid­den behind the "white" chil­dren (the sib­lings who can pass).
(19) Qtd. in Har­ris, 302.
(20) Lit­tle­field, Mar­ci Bounds, "Black Women, Moth­er­ing, and Protest in 19th Cen­tu­ry Amer­i­can Soci­ety" in Jour­nal of Pan African Stud­ies. 2.1 (Novem­ber 15, 2007), 53.
(21) Cit­ed in Susan­na W. Gold's "Recov­er­ing Iden­ti­ty: Nine­teenth-Cen­tu­ry African Amer­i­can Por­trai­ture," Amer­i­can Quar­ter­ly, vol. 58, no. 4, Decem­ber 2006, 1167-189.
(22) Har­ris, 303.