"As White As Their Mas­ters":
Visualizing the Color Line
Car­ol Good­man
Memo­r­i­al Uni­ver­si­ty of New­found­land
St. John's, New­found­land, Cana­da
Peo­ple at the North are dis­posed to be incred­u­lous when they hear of white slaves at the South: and yet a lit­tle reflec­tion would con­vince them not only that there must be such slaves under the present sys­tem, but that in process of time a large pro­por­tion of the slaves must be as white as their mas­ters.
—William Jay, Mis­cel­la­neous Writ­ings on Slav­ery (1853)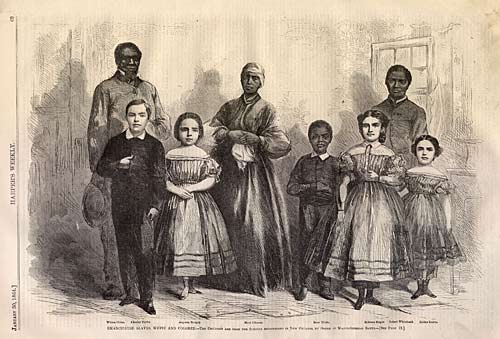 On Jan­u­ary 30, 1864, Harper's Week­ly print­ed an engrav­ing of a pho­to­graph, enti­tled "Eman­ci­pat­ed Slaves, White and Col­ored," depict­ing three adults and five chil­dren who had been brought north from Louisiana by Colonel George H. Han­ks and set free by Major Gen­er­al Nathaniel P. Banks. The group made a series of pub­lic appear­ances and were pho­tographed as part of a cam­paign to raise funds for pub­lic schools for freed slaves, the first of which was estab­lished by Major Gen­er­al Banks in Octo­ber 1863. The hope was, writes Kath­leen Collins in "Por­traits of Slave Chil­dren," that "these enig­mat­ic por­traits of Cau­casian-fea­tured chil­dren" would gal­va­nize "North­ern bene­fac­tors to con­tribute to the future of a race to which these chil­dren found them­selves arbi­trar­i­ly con­fined" (207). The "white slaves" depict­ed in the engrav­ing were described by the edi­tor of Harper's as being "as white, as intel­li­gent, as docile, as most of our own chil­dren" (66). "Yet," he con­tin­ued, "the 'chival­ry,' the 'gen­tle­men' of the Slave States, by the awful log­ic of the sys­tem, doom them all to the fate of swine; and, so far as they can, the par­ents and broth­ers of these lit­tle ones destroy the light of human­i­ty in their souls" (66). In com­par­ing these unfor­tu­nate slave chil­dren to those of its sub­scribers, the mag­a­zine hoped to stir their emo­tions against a sys­tem so uncon­scionable that it doomed its own chil­dren to a life of unspeak­able cru­el­ty.
The "all-but-white" slaves depict­ed in the engrav­ing embod­ied two of the more pre­pos­ter­ous social and legal fic­tions of race asso­ci­at­ed with slav­ery: the "one-drop rule" and the doc­trine of par­tus sequitur ven­trem. Insti­tut­ed dur­ing slav­ery and lat­er used to but­tress the Jim Crow sys­tem of seg­re­ga­tion, the "one-drop rule," explains F. James Davis in Who Is Black? One Nation's Def­i­n­i­tion, clas­si­fied per­sons with any degree of African ances­try as black (5). Because slav­ery was a pow­er­ful eco­nom­ic insti­tu­tion, it was in the slaveholder's best inter­est to be able to define as many indi­vid­u­als as black, and there­fore as slaves, as pos­si­ble. Accord­ing to Joel Williamson, in New Peo­ple: Mis­ce­gena­tion and Mulat­toes in the Unit­ed States, "Slav­ery had the pow­er to make all slaves black regard­less of their seem­ing white­ness" (75). The ante­bel­lum South pro­mot­ed the "one-drop rule" as a way of enlarg­ing the slave pop­u­la­tion by enslav­ing all racial­ly mixed per­sons, regard­less of the admix­ture of white and black blood. Like the "one-drop rule," the doc­trine of par­tus sequitur ven­trem was also con­trived as a means of increas­ing the num­ber of slaves and of firm­ly draw­ing the col­or line. Estab­lished by Vir­ginia law in 1662, the law of par­tus sequitur ven­trem decreed that an individual's sta­tus as slave or free was to be deter­mined by the sta­tus of his or her moth­er. The law read as fol­lows: "Where­as some doubts have arisen whether chil­dren got by any Eng­lish­man upon a negro woman should be slave or free, be it there­fore enact­ed and declared by the present grand assem­bly, that all chil­dren borne in this coun­try shall be held bond or free only accord­ing to the con­di­tion of the moth­er" (Hen­ing, 170). Uni­ver­sal­ly accept­ed through­out the south­ern Unit­ed States, the par­tus law sealed the fate of every child whose moth­er was a slave.
Sub­stan­ti­at­ing the exis­tence of "white slaves" in the South, the Harper's engrav­ing unveiled what the accom­pa­ny­ing edi­to­r­i­al referred to as one of the most loath­some secrets of the slave system—the "seduc­tion" of "the most friend­less and defense­less of women" by south­ern "gen­tle­men" (66). These "white slaves" were the incar­na­tion of racial trans­gres­sion in the South, extant proof of the sex­u­al exploita­tion of black slave women by their white mas­ters. Bent on expos­ing the deprav­i­ty of the slave sys­tem, Harper's afford­ed its sub­scribers "a ter­ri­ble illus­tra­tion of this truth of the out­rage of all nat­ur­al human affec­tions" (66) in the form of the engrav­ing. As if to reas­sure read­ers of its authen­tic­i­ty, the mag­a­zine print­ed brief biogra­phies of the engraving's sub­jects. The four "col­ored slaves," three adults and one child, were described as fol­lows:
WILSON CHINN is about 60 years old, he was "raised" by Isaac Howard of Wood­ford Coun­ty, Ken­tucky. When 21 years old he was tak­en down the riv­er and sold to Volsey B. Marmil­lion, a sug­ar planter about 45 miles above New Orleans. This man was accus­tomed to brand his negroes, and Wil­son has on his fore­head the let­ters "V. B. M." Of the 210 slaves on this plan­ta­tion 105 left at one time and came into the Union camp. Thir­ty of them had been brand­ed like cat­tle with a hot iron, four of them on the fore­head, and the oth­ers on the breast or arm.
MARY JOHNSON was cook in her master's fam­i­ly in New Orleans. On her left arm are scars of three cuts giv­en to her by her mis­tress with a rawhide. On her back are scars of more than fifty cuts giv­en by her mas­ter. The occa­sion was that one morn­ing she was half an hour behind time in bring­ing up his five o'clock cup of cof­fee. As the Union army approached she ran away from her mas­ter, and has since been employed by Colonel Han­ks as cook.
ROBERT WHITEHEAD—the Rev­erend Mr. White­head per­haps we ought to style him, since he is a reg­u­lar­ly ordained preacher—was born in Bal­ti­more. He was tak­en to Nor­folk, Vir­ginia, by a Dr. A. F. N. Cook, and sold for $1525; from Nor­folk he was tak­en to New Orleans, where he was bought for $1775 by a Dr. Leslie, who hired him out as house and ship painter. When he had earned and paid over that sum to his mas­ter, he sug­gest­ed that a small present for him­self would be quite appro­pri­ate. Dr. Leslie thought the request rea­son­able, and made him a dona­tion of a whole quar­ter of a dol­lar. The rev­erend gen­tle­man can read and write well, and is a very stir­ring speak­er. Just now he belongs to the church mil­i­tant, hav­ing enlist­ed in the Unit­ed States army.
ISAAC WHITE is a black boy of eight years; but none the less intel­li­gent than his whiter com­pan­ions. He has been in school about sev­en months, and I ven­ture to say that not one boy in fifty would have made as much improve­ment in that space of time. (71)
Of the four por­trai­tures, the most dis­turb­ing are those depict­ing the slaves' mal­treat­ment at the hands of their own­ers. Because the scars on Mary Johnson's arm and back are not vis­i­ble in the engrav­ing, the read­er must rely on his or her imag­i­na­tion to envi­sion the suf­fer­ing she must have endured under her tyran­ni­cal mas­ter. In con­trast, the ini­tials "V.B.M" brand­ed on Wil­son Chinn's fore­head offer indis­putable evi­dence of the tor­ture inflict­ed upon him by the sadis­tic Volsey B. Marmil­lion.
In con­trast to the "col­ored slaves," who are racial­ly marked by the col­or of their skin —and in the case of Wil­son Chinn by his phys­i­cal scars—the "white slaves" are free of any such racial sig­ni­fiers. They are—with the excep­tion of Augus­ta Brou­jey, who was slight­ly dark­er than the oth­er three children—"to all appear­ance of unmixed white race" (71). The four "all-but-white" slave chil­dren were delin­eat­ed as fol­lows:
REBECCA HUGER is eleven years old, and was a slave in her father's house, the spe­cial atten­dant of a girl a lit­tle old­er than her­self. To all appear­ance she is per­fect­ly white. Her com­plex­ion, hair, and fea­tures show not the slight­est trace of negro blood. In the few months dur­ing which she has been at school she has learned to read well, and writes as neat­ly as most chil­dren of her age. Her moth­er and grand­moth­er live in New Orleans, where they sup­port them­selves com­fort­ably by their own labor. The grand­moth­er, an intel­li­gent mulat­to, told Mr. Bacon that she had "raised" a large fam­i­ly of chil­dren, but these are all that are left to her.
ROSINA DOWNS is not quite sev­en years old. She is a fair child, with blonde com­plex­ion and silky hair. Her father is in the rebel army. She has one sis­ter as white as her­self, and three broth­ers who are dark­er. Her moth­er, a bright mulat­to, lives in New Orleans in a poor hut, and has hard work to sup­port her fam­i­ly.
CHARLES TAYLOR is eight years old. His com­plex­ion is very fair, his hair light and silky. Three out of five boys in any school in New York are dark­er than he. Yet this white boy, with his moth­er, as he declares, has been twice sold as a slave. First by his father and "own­er," Alexan­der Wethers, of Lewis Coun­ty, Vir­ginia, to a slave-trad­er named Har­ri­son, who sold them to Mr. Thorn­hill of New Orleans. This man fled at the approach of our army, and his slaves were lib­er­at­ed by Gen­er­al But­ler. The boy is decid­ed­ly intel­li­gent, and though he has been at school less than a year he reads and writes very well. His moth­er is a mulat­to; she had one daugh­ter sold into Texas before she her­self left Vir­ginia, and one son who, she sup­pos­es, is with his father in Vir­ginia.
AUGUSTA BROUJEY is nine years old. Her moth­er, who is almost white, was owned by her half-broth­er, named Sola­m­on, who still retains two of her chil­dren. (71)
Imme­di­ate­ly fol­low­ing the brief his­to­ries of these chil­dren was a plea to the pub­lic to pur­chase copies of the pho­to­graph that inspired the engrav­ing. As strik­ing as the engrav­ing was, it in no way com­pared to the arrest­ing qual­i­ty of the orig­i­nal pho­to­graph, which breathed life into the fig­ures depict­ed in Harper's. The embod­i­ment of slav­ery, M. H. Kimball's sub­jects revealed more about their sub­ju­ga­tion in their facial expres­sions than Harper's could pen in a year.
In addi­tion to the group pho­to­graph, sev­er­al indi­vid­ual and small­er group pho­tographs were also offered for sale, with the pro­ceeds going to the Louisiana schools that sup­port­ed the chil­dren. The first of the small­er group por­traits shown here is enti­tled "White and Black Slaves from New Orleans," and fea­tures Isaac, Mary, and Augus­ta (See Fig. 80). The fact that Augus­ta is quite obvi­ous­ly the "white slave" referred to in the cap­tion is inter­est­ing con­sid­er­ing she was appar­ent­ly "too dark" for inclu­sion in the Philadel­phia pub­lic­i­ty tour. The next pho­to­graph, which is of "Isaac and Rosa," reveals a stark con­trast between the com­plex­ions of these two "Eman­ci­pat­ed slave Chil­dren from the Free Schools of Louisiana" (See Fig. 31). Posed arm in arm with her decid­ed­ly dark­er com­pan­ion, Rosa appears unde­ni­ably "white." And yet, as Mary Niall Mitchell points out, in "'Rose­bloom and Pure White,' Or So It Seemed," the girl "could not have been 'white' since a white girl nev­er would have appeared on the arm of a black boy" (374). Rosa's racial­ly ambigu­ous image, Mitchell con­tends, served as "the per­fect metaphor" for, among oth­er things, "black­ness and white­ness," "racial mix­ture and racial puri­ty," and "slav­ery and free­dom" (374). It bears men­tion­ing that the por­trait of "Isaac and Rosa" to which Mitchell refers dif­fers sig­nif­i­cant­ly from the pho­to­graph shown here. In the Kim­ball pho­to­graph repro­duced in Mitchell's arti­cle, Rosa is clad in a large hat and heavy cape that is but­toned up to her chin. In con­trast, the pho­to­graph repro­duced here depicts a bare-shoul­dered, bare-armed, and thus decid­ed­ly more vul­ner­a­ble girl. Although Rosa's arm is entan­gled with Isaac's in both por­traits, the pho­to­graph shown here would have dis­turbed the sen­si­bil­i­ties of north­ern audi­ences much more than the one Mitchell depicts.
One of the more intrigu­ing pho­tographs of the New Orleans slaves is one tak­en by Charles Pax­son called "Learn­ing is Wealth" (See Fig. 85). Fea­tur­ing Charley, Rebec­ca, and Rosa at the knee of Wil­son Chinn, the por­trait rec­og­nizes the impor­tance of edu­ca­tion to the slave's sal­va­tion. With the excep­tion of Rosa—whose wea­ried look more than like­ly stemmed from her exhaus­tion at hav­ing to pose for so many photographs—the group appears to be engaged in the les­son at hand. Com­ment­ing on the pho­to­graph in Por­traits of a Peo­ple: Pic­tur­ing African Amer­i­cans in the Nine­teenth Cen­tu­ry, Gwen­dolyn Du Bois Shaw writes:
the impli­ca­tion of the dark-skinned Wil­son study­ing with a group of chil­dren implies a not-so-sub­tle racial hier­ar­chy at work regard­ing ideas of race and in-born abil­i­ties to learn. In the pho­to­graph, which for­mal­ly places Wil­son on the same line as young Charley, he is pre­sent­ed as being at the same intel­lec­tu­al lev­el as his lighter-skinned com­pan­ions. (160)
As it was ille­gal in the South to teach a slave to read or write, it is sig­nif­i­cant that each of the eman­ci­pat­ed slaves has in his or her pos­ses­sion a book.
The pho­tog­ra­phers' fas­ci­na­tion with the three whitest-look­ing of the slave chil­dren, as seen in "Learn­ing is Wealth," is under­scored by the numer­ous indi­vid­ual and group por­traits of them in exis­tence. The most pro­pa­gan­dis­tic of these pho­tographs, tak­en by Pax­son, had the chil­dren pos­ing with the Amer­i­can flag. The first was a por­trait of "Rebec­ca, A Slave Girl from New Orleans," sit­ting ador­ing­ly before the flag with her arms crossed over her bosom. The cap­tion read, "Oh! How I Love The Old Flag." The sec­ond was a por­trait of "Charley, A Slave Boy from New Orleans," sit­ting solemn­ly before the flag, or "Freedom's Ban­ner," as the cap­tion referred to it. The third was a por­trait of all three chil­dren, "Rosa, Charley, Rebec­ca. Slave Chil­dren from New Orleans," each enshroud­ed in an Amer­i­can flag, with the cap­tion "Our Pro­tec­tion" print­ed below. The por­traits of the chil­dren pos­ing with Old Glo­ry were obvi­ous­ly meant to appeal to the poten­tial donors' patri­o­tism.
Vignettes like the one of "Rebec­ca, Charley & Rosa, Slave Chil­dren from New Orleans" shown here cap­ti­vat­ed north­ern view­ers (See Fig. 81). The ethe­re­al qual­i­ty of the vignette gave the chil­dren an almost cheru­bic appear­ance, which is per­haps why Pax­son and fel­low pho­tog­ra­ph­er J. E. McClees were so fond of the tech­nique. Rec­og­niz­ing the pop­u­lar­i­ty of por­trai­ture, the pho­tog­ra­phers also opt­ed to shoot the chil­dren in more tra­di­tion­al pos­es and set­tings. Aware of the suc­cess of por­traits like the one of Fan­ny Vir­ginia Casseopia Lawrence repro­duced in this exhi­bi­tion, they cap­i­tal­ized on this image of Vic­to­ri­an girl­hood (See Fig. 73). "With each child framed in the vignettes and par­lor scenes asso­ci­at­ed with white north­ern mid­dle-class girl­hood," writes Mary Niall Mitchell, "these images of 'slave girls' brought anti­slav­ery into the homes, per­haps even the fam­i­ly pho­to­graph albums, of many white north­ern­ers" (379). A decade ear­li­er, Har­ri­et Beech­er Stowe had intro­duced the "all-but-white" slave into the homes of north­ern read­ers in the char­ac­ter of Eliza. But Stowe's fic­tion­al char­ac­ter from Uncle Tom's Cab­in; or, Life Among the Low­ly (1852) only exist­ed in the read­ers' imag­i­na­tions. Star­ing back at them from these pho­tographs, Rebec­ca, Rosa, and Fan­ny became as real to north­ern view­ers as their own daugh­ters and nieces.
As indi­cat­ed in the cap­tion beneath her image, Fan­ny was redeemed by Cather­ine S. Lawrence and bap­tized in Brook­lyn by Hen­ry Ward Beech­er, the broth­er of Har­ri­et Beech­er Stowe, in May 1863. In her auto­bi­og­ra­phy, Sketch of Life and Labors of Miss Cather­ine S. Lawrence, Who In Ear­ly Life Dis­tin­guished Her­self as a Bit­ter Oppo­nent of Slav­ery and Intem­per­ance, and Lat­er in Life as a Nurse in the Late War; and for Oth­er Patri­ot­ic and Phil­an­thropic Ser­vices (1893), Lawrence recalls the first time she saw young Fan­ny, or Vir­ga, as she refers to her. Inquir­ing as to the iden­ti­ty of a child she sees on the grounds of the hos­pi­tal where she works, Lawrence asks, "But, Helen, see there, where did that white child come from?" (124). The wash­er­woman tells Lawrence that the girl and her two old­er sis­ters were left in the care of slaves and told to go into the Union lines. The woman then implores Lawrence to take the young girl, say­ing, "[T]hat lit­tle girl has no one to see to her. She will be glad to live with you, and then she is white and more like you white folks" (124). Lawrence dis­miss­es her request on the grounds that she is too busy at the present time even to con­sid­er such a notion. A few days lat­er, Helen returns with the girl's old­er sis­ter, who, with a tremor in her voice, tells Lawrence that she is unable to sup­port her­self and her two younger sib­lings. The twelve-year-old girl says that she thinks her sis­ter will be bet­ter off with Lawrence, and beseech­es her to take the girl. Remark­ing on the sit­u­a­tion, Lawrence says, "They were rep­re­sent­ed to me as slave chil­dren. The lit­tle girl had flax­en hair and dark blue eyes, but dark com­plex­ion or ter­ri­bly sun­burned. I at once took the child, think­ing I would find a home for her. She was a beau­ti­ful child and I soon became very much attached to her. She was not yet three years old" (126). Lawrence agrees to take the girl with the inten­tion of find­ing a suit­able place for her to live.
Unable to keep Vir­ga with her at the hos­pi­tal, Lawrence sends her to stay with a friend in Wash­ing­ton. A short time lat­er, Lawrence goes to Wash­ing­ton, where she meets a gen­tle­man from Brook­lyn, who inquires about Vir­ga. Lawrence offers the man a brief account of the girl's his­to­ry, telling him that Vir­ga and her sis­ters were freed by their grand­moth­er short­ly before her death, and that they made their way to the Union lines soon after she was buried. "She was born in slav­ery?" the man asks incred­u­lous­ly, to which Lawrence replies, "I can­not say, for at this time of excite­ment in con­nec­tion with my duties, and in the midst of war, I have no means of ascer­tain­ing" (130). "Well," the man returns, "let me have her. I'll give you my gold watch for her" (130). Scan­dal­ized by the gentleman's offer, Lawrence retorts, "Oh my! That would be sell­ing her; no, indeed, nev­er" (130). The casu­al man­ner in which the man offers to trade his gold watch for the young girl accen­tu­ates Virga's sta­tus as noth­ing more than a com­mod­i­ty. Once the man learns that she was born a slave, he imme­di­ate­ly treats her as such.
Despite her seem­ing white­ness, Fan­ny Vir­ginia Casseopia Lawrence is not afford­ed the same respect or con­sid­er­a­tion as a white child. Under the doc­trine of par­tus sequitur ven­trem, she has inher­it­ed the abject sta­tus of her moth­er, and is thus con­demned to a life of servi­tude. Although they made numer­ous pub­lic appear­ances, very lit­tle is known about the New Orleans slave chil­dren and Fan­ny Lawrence. Where did they come from? Who were their par­ents? The abo­li­tion­ists, it seems, were more inter­est­ed in what these "all-but-white" slaves rep­re­sent­ed than they were in the chil­dren them­selves. They were liv­ing proof that gen­er­a­tions of mis­ce­gena­tion had indeed pro­duced a sig­nif­i­cant num­ber of slaves who were every bit "as white as their mas­ters" and every bit as enslaved as their moth­ers.
Bib­li­og­ra­phy
Collins, Kath­leen. "Por­traits of Slave Chil­dren." His­to­ry of Pho­tog­ra­phy 9.3 (July-Sep­tem­ber 1985): 187–210.
Davis, F. James. Who Is Black? One Nation's Def­i­n­i­tion. Uni­ver­si­ty Park: Penn­syl­va­nia State UP, 1991.
Fried, Gre­go­ry. "True Pic­tures." Com­mon-Place 2.2 (Jan­u­ary 2002) http://common-place.org/vol-02/no-02/fried/fried-5.shtml.
Harper's Week­ly. Vol. 8 No. 370 (Jan­u­ary 30, 1864): 66, 71.
Hen­ing, William Waller. The Statutes at Large: Being a Col­lec­tion of all the Laws of Vir­ginia, from the First Ses­sion of the Leg­is­la­ture in the Year 1619. Rich­mond, Vir­ginia: Print­ed by and for Samuel Pleas­ants Junior, print­er to the Com­mon­wealth, 1809.
Jay, William. Mis­cel­la­neous Writ­ings on Slav­ery. 1853. New York: Negro Uni­ver­si­ties Press, 1968.
Lawrence, Cather­ine S. Sketch of Life and Labors of Miss Cather­ine S. Lawrence, Who In Ear­ly Life Dis­tin­guished Her­self as a Bit­ter Oppo­nent of Slav­ery and Intem­per­ance, and Lat­er in Life as a Nurse in the Late War; and for Oth­er Patri­ot­ic and Phil­an­thropic Ser­vices. Albany, NY: Amasa J. Park­er, Receiv­er of Weed, Par­sons & Co., Print­er, 1893.
Mitchell, Mary Niall. "'Rose­bloom and Pure White,' Or So It Seemed." Amer­i­can Quar­ter­ly 54.3 (Sep­tem­ber 2002): 369–410.
Shaw, Gwen­dolyn DuBois. Por­traits of a Peo­ple: Pic­tur­ing African Amer­i­cans in the Nine­teenth Cen­tu­ry. Seat­tle: U of Wash­ing­ton P, 2006.
Stowe, Har­ri­et Beech­er. Uncle Tom's Cab­in; or, Life Among the Low­ly. 1852. New York: Harp­er & Row, 1965.
Williamson, Joel. New Peo­ple: Mis­ce­gena­tion and Mulat­toes in the Unit­ed States. Lon­don: The Free Press, 1980.