Mol­ly Rogers
Pub­lished Jan. 18, 2012
"Fair women are trans­formed into Negress­es"(1)
The Uncan­ny Object
In the sum­mer of 1976, employ­ees of Har­vard University's Peabody Muse­um of Archae­ol­o­gy and Eth­nol­o­gy dis­cov­ered fif­teen daguerreo­types in the muse­um attic. The pho­tographs were made in 1850 and they depict five African men and two African Amer­i­can women, all of whom were slaves in or near Colum­bia, South Car­oli­na. The names of the peo­ple are known—the men are Jack, Jem, Fasse­na, Ren­ty, and Alfred, and the women Drana and Delia—as are a few details on the cir­cum­stances of their lives. The daguerreo­types are con­sid­ered to be the ear­li­est known pho­tographs of iden­ti­fi­able Amer­i­can slaves.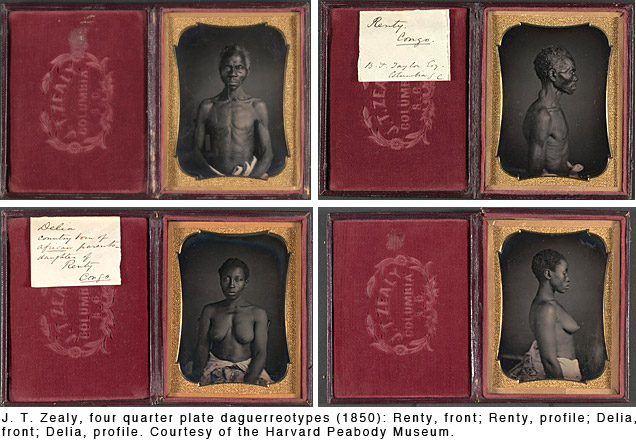 The daguerreo­types are also among the ear­li­est known pho­tographs made to sup­port anthro­po­log­i­cal sci­ence. Com­mis­sioned by the Swiss-born nat­u­ral­ist and Har­vard pro­fes­sor Louis Agas­siz, they were intend­ed to serve as evi­dence for an ear­ly the­o­ry of human diver­si­ty, one favored by slave­hold­ers. The the­o­ry, lat­er called poly­ge­n­e­sis, held that there had not been one act of creation—one orig­i­nal pair, as the Bible stipulated—but many: God had cre­at­ed a Black Adam and Eve, an Asian Adam and Eve, and so on. Diver­si­ty, Agas­siz and oth­er pro­po­nents of this the­o­ry claimed, dat­ed back to Cre­ation. Yet despite the sup­port of well-known and respect­ed sci­en­tists, poly­ge­n­e­sis was not wide­ly accept­ed because it con­tra­dict­ed Chris­t­ian doc­trine; how­ev­er, for many it was prefer­able to the alter­na­tive expla­na­tion, that diver­si­ty was the result of changes occur­ring over vast peri­ods of time. Evo­lu­tion, as this idea would come to be known, con­jured for nine­teenth- cen­tu­ry Amer­i­cans images of racial shape-shift­ing and proved high­ly dis­taste­ful to most white peo­ple.
Not long ago I viewed the daguerreo­types at the Peabody Muse­um. I was writ­ing a nar­ra­tive his­to­ry of the pho­tographs, cov­er­ing the social and polit­i­cal cir­cum­stances that led to their mak­ing and the mean­ings that may have been found in them.(2) This was a project I under­took in my own time—the book was my response to the pow­er­ful nature of the photographs—and it required a great deal of research in areas com­plete­ly new to me, includ­ing the his­to­ries of ear­ly anthro­pol­o­gy and slav­ery in ante­bel­lum Amer­i­ca. It was only after six years of research that I had the oppor­tu­ni­ty to exam­ine all fif­teen daguerreo­types for the first time, the long delay due as much to my need to under­stand what I was look­ing for in the pho­tographs before actu­al­ly see­ing them as it was due to the logis­tics of vis­it­ing the muse­um and the need to con­vince cura­tors that I was a legit­i­mate researcher. Decid­ed­ly rare and invalu­able objects, the daguerreo­types are close­ly guard­ed by muse­um staff, and right­ly so. I eager­ly antic­i­pat­ed see­ing the daguerreo­types in per­son, which I knew would be very dif­fer­ent from look­ing at repro­duc­tions.
Gaz­ing upon a daguerreo­type is a pecu­liar expe­ri­ence. Made using a direct-pos­i­tive process, the daguerreo­type is a mir­ror image—the subject's right-hand side is on your left—and a one-of-a-kind object: there is no neg­a­tive, and so copies can­not be made unless the orig­i­nal is repho­tographed. The image itself is ephemer­al, dis­ap­pear­ing when the pho­to­graph is tilt­ed slight­ly. But more star­tling is the appar­ent depth of the image, a result of the way in which daguerreo­types were pack­aged. Placed in a dec­o­ra­tive case with a glass cov­er­ing to pro­tect the sur­face of the image, the met­al plate of the daguerreo­type is a mir­ror image in a sec­ond sense: it reflects back your own image as you look at the pho­to­graph. At the same time, any bits of dust or marks on the glass cov­er­ing are reflect­ed in the pho­to­graph­ic image such that they appear to be sit­u­at­ed behind the per­son rep­re­sent­ed. This com­bi­na­tion of see­ing your own reflec­tion in the sur­face of the image and see­ing what appears to be space behind the per­son in the pho­to­graph cre­ates a sense of spa­tial depth that is uncan­ny. To hold and gaze upon a daguerreo­type por­trait is to exist in a vir­tu­al space along­side the sub­ject of the image.
One of the Peabody's cura­tors brought the daguerreo­types to me, each one care­ful­ly wrapped to pro­tect the leather-bound case, the group stored togeth­er in a box. After the cura­tor had removed them from the box, I was left with a pair of white cot­ton gloves and tac­it instruc­tions to han­dle the daguerreo­types with care. When I asked for a mag­ni­fy­ing glass—each exquis­ite­ly detailed image is less than four inch­es across by five inch­es high—one was found for me to use. I start­ed with the two images of Delia.
As I exam­ined the pho­tographs, scru­ti­niz­ing Delia's body with the aid of a mag­ni­fy­ing glass—seeking in her image evi­dence of mal­treat­ment, of the cir­cum­stances under which the image was made, and of her indi­vid­ual character—an unpleas­ant feel­ing came over me. Louis Agas­siz had com­mis­sioned Delia's pho­tographs after phys­i­cal­ly exam­in­ing her. The images were intend­ed to serve as aide-mémoire to this osten­si­bly sci­en­tif­ic exam­i­na­tion and also as evi­dence of his find­ings, which he could show to oth­er peo­ple. The pho­tographs were there­fore dou­bly linked to Delia's vio­la­tion: they were both the cul­mi­na­tion of an inva­sive exam­i­na­tion and a sec­ond instance of this objec­ti­fy­ing scruti­ny. And there I was, exam­in­ing Delia much as the sci­en­tist had done: she was exposed against her will, and in her body I sought infor­ma­tion, facts, evi­dence. That the kind of evi­dence I hoped to find dif­fered from that of the Swiss nat­u­ral­ist offered lit­tle con­so­la­tion. Ulti­mate­ly, there was no avoid­ing the fact that I was regard­ing Delia as an object and doing so for my own gain. This dis­com­fit­ing iden­ti­fi­ca­tion with Agas­siz (not to men­tion slave­hold­ers and undoubt­ed­ly oth­ers who shared their atti­tudes on race) brought tears to my eyes and led me to ques­tion my own inter­est in and use of the daguerreo­types.
I came away from the Peabody Muse­um won­der­ing about my work and my rela­tion­ship to images of suf­fer­ing and oppres­sion. Is it pos­si­ble to look at these pho­tographs in a way that does not reen­act the objec­ti­fy­ing gaze of the sci­en­tist, the slave­hold­er, and the pho­tog­ra­ph­er? How should we look at and write about images that are com­plic­it with cru­el­ty?(3)
Imag­i­na­tive Lib­er­a­tion
One solu­tion to this prob­lem might be to acknowl­edge the "human­i­ty" of the peo­ple in the pho­tographs, as some writ­ers have done. Delia was pho­tographed for the pur­pose of prov­ing poly­ge­n­e­sis, which some peo­ple inter­pret­ed to mean that dif­fer­ent races con­sti­tut­ed sep­a­rate species. Con­se­quent­ly, it pro­vid­ed sci­en­tif­ic and there­fore appar­ent­ly irrefutable jus­ti­fi­ca­tion for slav­ery. Louis Agas­siz exam­ined Delia and the oth­er peo­ple who were pho­tographed on his instruc­tions in order to deter­mine their "racial type," which is to say he viewed them as abstrac­tions rather than indi­vid­u­als. We, how­ev­er, know bet­ter. We view Delia dif­fer­ent­ly, see­ing her not as a racial type, nor per­haps even pri­mar­i­ly as a slave (anoth­er kind of "type"), but as a young woman who worked on a plan­ta­tion out­side Colum­bia, South Car­oli­na, and who was forced to remove her cloth­ing so that a sci­en­tist could exam­ine and record her appear­ance. We acknowl­edge her humil­i­a­tion, and so rec­og­nize her human­i­ty, and in this way restore to her what had been tak­en away. Alan Tra­cht­en­berg calls this "imag­i­na­tive lib­er­a­tion." By rec­i­p­ro­cat­ing the look of the per­son in the pho­to­graph, he writes, "we have acknowl­edged what the pic­tures most overt­ly deny: the uni­ver­sal human­ness we share with them. Their gaze in our eyes, we can say, frees them."(4)
But can we real­ly say this, that Delia's gaze, in our eyes, frees her? The metaphor of free­dom is a poor choice, in my view. Look­ing at a pho­to­graph can­not "free" an enslaved person—only run­ning away, man­u­mis­sion, or uni­ver­sal eman­ci­pa­tion could and did do this, and pos­si­bly also moments of resis­tance. Look­ing at Delia's pho­to­graph and see­ing there a human being rather than a racial type or a piece of prop­er­ty does not mag­i­cal­ly restore what was tak­en from her; it does not redress the many wrongs, the many vio­la­tions per­pe­trat­ed against her, includ­ing hav­ing her pho­to­graph tak­en for sci­en­tif­ic pur­pos­es. It mat­ters how we regard such pho­tographs because under­stand­ing why they were made mit­i­gates some­what the objec­ti­fy­ing gaze, but such regard can­not have any effect upon Delia her­self. To sug­gest that we can "free" a per­son by look­ing at her pho­to­graph is to over­look the speci­fici­ty of that per­son, the very real details of her life, both good and bad: in oth­er words, it ren­ders her into an abstrac­tion.
I also have a prob­lem with Trachtenberg's claim for a "uni­ver­sal human­ness." It is true that Delia was pho­tographed for the very pur­pose of negat­ing the idea of a shared human­i­ty, and while there is noth­ing wrong with declar­ing an oppo­si­tion to this idea—such asser­tions are per­haps even nec­es­sary, what­ev­er their pitfalls—at the same time the his­to­ry of ear­ly anthro­pol­o­gy shows us that "the human" is far from a uni­ver­sal­ly under­stood and agreed-upon con­cept. The the­o­ry of poly­ge­n­e­sis, which was wide­ly debat­ed dur­ing the nine­teenth cen­tu­ry, held that the class of beings we had long called "humans" actu­al­ly includ­ed many dis­tinct types of beings. Such dis­putes over the cause and mean­ing of racial dif­fer­ence tell us that "the human," rather than being a nat­ur­al cat­e­go­ry, is always con­tin­gent on the cir­cum­stances in which the term is being applied—it is, in oth­er words, a con­cept steeped in his­to­ry. It is also anoth­er abstrac­tion, how­ev­er well inten­tioned.(5)
Imag­i­na­tive lib­er­a­tion as Tra­cht­en­berg describes it seems to me the sort of thing Susan Son­tag had in mind when she wrote, "Pho­tographs turn the past into an object of ten­der regard, scram­bling moral dis­tinc­tions and dis­arm­ing his­tor­i­cal judg­ments by the gen­er­al­ized pathos of look­ing at time past."(6) Since the daguerreo­types have so lit­tle to say about the peo­ple they depict, what else can we find in them but some ele­men­tal qual­i­ty shared by all peo­ple? This is not an unrea­son­able posi­tion to take, but sure­ly mat­ters should not rest there. Else­where Son­tag wrote: "No 'we' should be tak­en for grant­ed when the sub­ject is look­ing at oth­er people's pain."(7)
The claim for a shared human­i­ty with Delia says more about a need to dis­tance our­selves from peo­ple such as Agas­siz and the racial ideas he val­ued than about the per­son depict­ed in the pho­to­graph. After all, who wants to iden­ti­fy with a racist? At the same time, it is eas­i­er to base an empath­ic (and reas­sur­ing) gaze on the catchall notion of a shared human­i­ty than on any­thing about Delia as an indi­vid­ual because we know so lit­tle about her. The archives and libraries are full of infor­ma­tion on Agassiz—his cor­re­spon­dence, pub­lished sci­en­tif­ic work, and books writ­ten about him—but there is pre­cious lit­tle about the peo­ple depict­ed in the daguerreo­types. Nev­er­the­less, we do know some details about Delia's life. For exam­ple, her job was with a black­smith, an unusu­al occu­pa­tion for a woman in the nine­teenth cen­tu­ry, even on a plan­ta­tion.(8) Con­tem­po­rary slave nar­ra­tives also tell us about liv­ing con­di­tions under slav­ery. So there are sources that could be used to say some­thing spe­cif­ic about Delia. Yet, as I became involved in my own work, I was sur­prised to find that none of the schol­ars and his­to­ri­ans who had writ­ten about the pho­tographs seemed to have con­sid­ered Delia, Jack, Jem, Drana, Alfred, Ren­ty, and Fasse­na as indi­vid­u­als. They made no room for Delia as a per­son, pre­sent­ing her only as the object of sci­en­tif­ic and pho­to­graph­ic scruti­ny, and an exam­ple of uni­ver­sal human­ness.(9)
Shift­ing the focus from dis­cus­sions of vit­ri­olic racism, polit­i­cal oppres­sion, and the abuse of indi­vid­u­als to the more reas­sur­ing vision of uni­ver­sal human­i­ty (and with it the sug­ges­tion that we are far from such hor­rors today) may ease the dis­com­fort of look­ing at images of suf­fer­ing but it also excus­es us from look­ing at these images and think­ing about whom and what they depict.
Once we look away, it is dif­fi­cult to look back.
Imag­i­nary Lives
Sit­ting in the Peabody Muse­um, dis­turbed by the way scruti­ny of the daguerreo­types brought me uncom­fort­ably close to Agas­siz, I decid­ed that in my own work I need­ed to depict the peo­ple in the pho­tographs as indi­vid­u­als, as sub­jects rather than objects. By doing this I could dis­rupt the orig­i­nal intend­ed mean­ing of the pho­tographs, influ­enc­ing how oth­ers saw the images and the peo­ple in them. But could I in fact do this, espe­cial­ly giv­en the pauci­ty of rel­e­vant source mate­r­i­al? I had dis­cov­ered a few facts about each of the peo­ple depict­ed, but the prospect of sim­ply work­ing these into a con­ven­tion­al nar­ra­tive his­to­ry, where they might log­i­cal­ly appear, was dis­sat­is­fy­ing.(10) For instance, Jack's involve­ment with the First Bap­tist Church of Colum­bia would be rel­e­vant in a dis­cus­sion of how slave­hold­ers used reli­gion as a pro­phy­lac­tic against insur­rec­tion.(11) But drop­ping such a fact into the gen­er­al dis­cus­sion would have meant releas­ing sig­nif­i­cant infor­ma­tion into a deep pool where it would have been all but lost. Alter­na­tive­ly, teas­ing out the impli­ca­tions of the fact with­in the dis­cus­sion by explor­ing what it meant for Jack to be an active church mem­ber would cre­ate an awk­ward digres­sion.
My solu­tion for giv­ing the peo­ple in the images a sub­jec­tive pres­ence in my book, bal­anced with the depic­tions of the men who made and used the daguerreo­types, was to use lit­er­ary tech­niques. The first of these was to incor­po­rate into the text the words of W. E. B. Du Bois, Ralph Elli­son, and Zora Neale Hurston as a way to rebut the dom­i­nant racist dis­course of the nine­teenth cen­tu­ry. The main nar­ra­tive of the book presents the African Amer­i­can response to ear­ly anthro­po­log­i­cal sci­ence, with John H. John­son, a "col­ored man" from Philadel­phia, and the well-known black abo­li­tion­ist Fred­er­ick Dou­glass appear­ing to demon­strate that not every Amer­i­can found poly­ge­n­e­sis a com­pelling the­o­ry.(12) But I also drew from the wealth of African Amer­i­can writ­ing that has emerged since the pho­tographs were made. When Agas­siz reveals his feel­ings of dis­gust for black peo­ple, sin­gling out "that hideous hand" belong­ing to a hotel wait­er as the focus of his revul­sion, Zora Neale Hurston's voice responds with a con­trast­ing atti­tude. "But the thing that held my eyes [was] their fin­gers," she says of her first pro­longed encounter with white peo­ple. "They were long and thin, and very white, except up near the tips. There they were baby pink. I had nev­er seen such hands. It was a fas­ci­nat­ing dis­cov­ery for me. I won­dered how they felt."(13) Agas­siz and Hurston were both cap­ti­vat­ed by hands dif­fer­ent from their own, but Hurston was moved to won­der what it would be like to touch those oth­er hands, to engage in inti­mate human con­tact with them.
In anoth­er exam­ple, when the man charged with over­see­ing the com­mis­sion for the daguerreo­types, Dr. Robert Gibbes, writes to a col­league, "I have just fin­ished the daguerreo­types for Agas­siz of native Africans of var­i­ous tribes. I wish you could see them," the reply comes not from the sci­en­tist to whom he wrote, but Ralph Elli­son.(14) The pas­sage in the book reads thus:
"I wish you could see them," Gibbes wrote—but did any­one see them—really see them? And when we say "them," are we talk­ing about the daguerreo­types them­selves, or the peo­ple depict­ed in the images? Cer­tain­ly Agas­siz and oth­er men looked at the daguerreo­types, but what did they see? Did they see a slave? A young woman or an old man? A car­pen­ter or a man from West Africa? Some­one who liked to sing, or dance, or chew tobac­co? Did they see a hea­then or a sin­ner, a Mus­lim or a Chris­t­ian?
"I am an invis­i­ble man," says the nar­ra­tor of Ralph Ellison's epic sto­ry of race in the twen­ti­eth cen­tu­ry. "I am a man of sub­stance, of flesh and bone, [fiber] and liquids—and I might even be said to pos­sess a mind."
How can a man with such attrib­ut­es, a human being, be invis­i­ble?
"I am invis­i­ble, under­stand, sim­ply because peo­ple refuse to see me."
For Elli­son, to ren­der a man black requires only that you look close­ly, scru­ti­nize his body, his move­ments and his man­ner, and at the same time that you see noth­ing of the man. "When they approach me they see only my sur­round­ings, them­selves, or fig­ments of their imagination—indeed, every­thing and any­thing except me."(15)
In dia­logues across time and place, Hurston's and Ellison's voic­es respond to those of Agas­siz and Gibbes—speaking for Delia and indeed for many oth­er enslaved people—and in so doing pre­vent the racist atti­tudes of the nine­teenth cen­tu­ry from going unan­swered.
My sec­ond lit­er­ary tech­nique was to use fic­tion to present the men and women depict­ed in the pho­tographs as active sub­jects pos­sess­ing agency despite their sta­tus as slaves. To accom­pa­ny each of the fif­teen pho­tographs, I wrote a short fic­tion­al vignette sug­gest­ed by fac­tu­al infor­ma­tion, which con­sid­ers the per­spec­tive of the per­son in the adja­cent image. In this way the fact of Jack's mem­ber­ship with the First Bap­tist Church of Colum­bia, a mat­ter of church record, becomes a scene in which a man sit­ting in church allows the tran­quil­li­ty he receives from reli­gion to ease the strain of being a slave dri­ver. This vignette not only presents the fact of Jack's reli­gious affil­i­a­tion but also sug­gests an entire point of view, a way of being and think­ing that under­scores Jack's sub­jec­tiv­i­ty.
Even as they enrich the his­tor­i­cal nar­ra­tive of the book, the fic­tion­al vignettes also dis­rupt and com­pli­cate the more con­ven­tion­al account by pre­sent­ing an alter­na­tive view of the per­son depict­ed, one that stands in oppo­si­tion to the more famil­iar image of the objec­ti­fied slave. A good exam­ple of this is Jem, who "belonged" to F. W. Green—this was prob­a­bly Fred­er­ick W. Green, a mechan­ic from Mass­a­chu­setts who lived in Colum­bia. Green seems to have owned the Red Bank Cot­ton Fac­to­ry in Lex­ing­ton, South Car­oli­na, which sug­gests that in 1850 Jem lived in the city, rather than on a plan­ta­tion. This back­ground informs all three of Jem's vignettes. In the first, he nego­ti­ates the poten­tial­ly haz­ardous streets of Colum­bia, demon­strat­ing his rel­a­tive auton­o­my (when com­pared with plan­ta­tion slaves) and his skill in deal­ing with white peo­ple in the urban land­scape. In the sec­ond and third vignettes I empha­size Jem's sophis­ti­ca­tion. Here is an excerpt from the sec­ond vignette, in which he serves din­ner at Green's house:
He stood out­side the door, shift­ing his weight from one leg to the oth­er. He had spent the day rush­ing around in prepa­ra­tion for the par­ty, arranged only that morn­ing when the Doc­tor paid an ear­ly vis­it. His feet ached.
The bell rang, a shrill sum­mons cut­ting through the tumult of voic­es. He hadn't expect­ed it again so soon.
Before enter­ing the room he took a moment to com­pose him­self, straight­en­ing his jack­et, smooth­ing his trousers, and remov­ing all expres­sion from his face. He could hear the Doc­tor speak­ing, some­thing about a recent vis­it to Charleston. He wait­ed for a pause in the sto­ry and then entered the room.
In the third vignette Jem finds him­self again wait­ing, this time to have his daguerreo­type made:
"We're ready for you now."
He did not move, not imme­di­ate­ly, but when he did rise to his feet he stood tall and took a moment to smooth his cloth­ing before fol­low­ing the man into the next room.
On both occa­sions Jem smooths his cloth­ing before enter­ing the room, a ges­ture that sug­gests he is self-con­fi­dent and social­ly sophis­ti­cat­ed. The ges­ture also cre­ates a very dif­fer­ent pic­ture from the daguerreo­type, and dif­fer­ent too from the sec­ond vignette's ensu­ing chap­ter, in which Jem and the oth­er peo­ple are exam­ined and pho­tographed naked. In this way the vignettes, while pre­sent­ing scenes relat­ing to the book's over­all nar­ra­tive, are designed to cre­ate an image that nei­ther con­firms nor rein­forces the stark and bru­tal image of the daguerreo­type.
The vignettes also func­tion as alter­na­tive cap­tions. The offi­cial cap­tions to the daguerreo­types were assem­bled after the images were made and by dif­fer­ent peo­ple at dif­fer­ent times; they also con­firm and val­i­date the images as sci­en­tif­ic objects. Each cap­tion includes the photographer's name, a title, the medi­um used, the date it was made, infor­ma­tion about the muse­um that owns the image, and an acces­sion num­ber. The offi­cial cap­tion to one of Jem's pho­tographs reads as fol­lows:
Joseph T. Zealy, Jem, Gul­lah. [B]elonging to F. W. Green, Colum­bia, SC, quar­ter-plate daguerreo­type, 1850. Cour­tesy Pres­i­dent and Fel­lows of Har­vard Col­lege, Peabody Muse­um of Archae­ol­o­gy and Eth­nol­o­gy, 35–5-10/53045.
The title of the work is drawn from the label that Agassiz's col­league Dr. Gibbes wrote and affixed to the daguerreo­type case in 1850; the Peabody Muse­um, cur­rent own­er of the image, pro­vid­ed the remain­der of the infor­ma­tion. "Jem" was like­ly a name assigned by whites, and so may not have been the name this man used among his own peo­ple. The phrase "belong­ing to F. W. Green" under­scores his sta­tus as a slave and so strips him of dig­ni­ty and agency. The muse­um infor­ma­tion has the fur­ther unfor­tu­nate effect of rein­forc­ing the orig­i­nal pur­pose of the image by nam­ing an insti­tu­tion, a sci­en­tif­ic dis­ci­pline, and a cat­a­logue num­ber. Noth­ing in the cap­tion describes the image or tells us much about its sub­ject (if we take "sub­ject" to mean not ear­ly anthro­po­log­i­cal sci­ence but the man in the image). Rather, it sug­gests a kind of prove­nance, one close­ly allied with the sta­tus of the image's object, the orig­i­nal pur­pose of the image, and its sub­se­quent insti­tu­tion­al uses.
As a cap­tion the vignette offers some­thing very dif­fer­ent. By pre­sent­ing the (imag­ined) view­point of the per­son in the image, each vignette offers a means of look­ing back from the photograph—a look­ing out­ward to accom­pa­ny our look­ing at the image. This empath­ic view is made explic­it in the first vignette par­tic­u­lar­ly, in which Delia stares direct­ly at the cam­era (and so at us) while hav­ing her pic­ture made, but at the same time the fic­tion allows us to share her point of view, to look at her but also to see what she sees and how she sees it. While this piece of fic­tion can nev­er undo the wrongs Delia expe­ri­enced in her life­time, nor does it claim to rep­re­sent Delia's actu­al voice, it can pro­vide the read­er with a view that coun­ters our habit­u­at­ed under­stand­ing of enslaved men and women as pas­sive vic­tims.
"Fair women are trans­formed into Negress­es"
The fic­tion­al vignettes are intend­ed to per­mit the read­er to imag­ine the points of view of Delia, Jem, and the oth­er peo­ple in the pho­tographs, to look at them but also to see what they might have seen—yet is such a thing real­ly pos­si­ble? More than once in the course of research­ing and writ­ing about the daguerreo­types I was asked whether as a light-skinned woman I am qual­i­fied to imag­ine the points of view of enslaved Africans and African Amer­i­cans. Are my fic­tions not a kind of ven­tril­o­quism or appro­pri­a­tion, one deeply inap­pro­pri­ate giv­en the course of Amer­i­can his­to­ry? Can we who live in a very dif­fer­ent era real­ly share the points of view of enslaved African Amer­i­cans, or have I sim­ply invent­ed an affin­i­ty with the peo­ple in the pho­tographs, one per­haps not unlike the com­mon ground of "uni­ver­sal human­ness," in order to avoid my own uncom­fort­able iden­ti­fi­ca­tion with the nat­u­ral­ist and his oppres­sive sci­ence?
The medi­um of pho­tog­ra­phy sure­ly encour­ages feel­ings of close­ness with the per­son depict­ed. As I've already men­tioned, the phys­i­cal prop­er­ties of a daguerreo­type bring the view­er and sub­ject of the image into a shared pho­to­graph­ic space, a jux­ta­po­si­tion that encour­ages iden­ti­fi­ca­tion. When too much light strikes the image, a daguerreo­type will also become a neg­a­tive image such that light tones become dark and dark tones light. "Fig­ures have a strange effect," not­ed the sci­en­tist Sir John Her­schel upon see­ing neg­a­tive pho­to­graph­ic images. "[F]air women are trans­formed into negress­es[,] &c."(16)
Anoth­er form of pho­to­graph­ic trans­for­ma­tion may be found in the case of Mary Mil­dred Botts, a sev­en-year-old "white slave" who was "so white as to defy the acutest judge to detect in her fea­tures, com­plex­ion, and gen­er­al appear­ance, the slight­est trace of Negro blood."(17) Mary Mildred's pho­to­graph, used by abo­li­tion­ists to chal­lenge the social and sci­en­tif­ic clas­si­fi­ca­tion of racial cat­e­gories, relied on the iden­ti­fi­ca­tion white peo­ple would have had with her with upon see­ing the girl's image. But this iden­ti­fi­ca­tion also brought home the slip­per­i­ness of race and so the insta­bil­i­ty of social norms, thus unset­tling the sta­tus of the view­er. Close­ness with the sub­ject of the pho­to­graph can raise some knot­ty prob­lems: far from con­firm­ing an individual's iden­ti­ty, pho­tographs cre­ate con­fu­sion through jux­ta­po­si­tion, oppo­si­tion, and trans­po­si­tion. Affin­i­ty between the view­er of a pho­to­graph and its sub­ject, even across social and racial bound­aries, and the uncer­tain­ty of this affin­i­ty are part and par­cel of the pho­to­graph­ic expe­ri­ence.
So back to the ques­tion at hand: What qual­i­fies me, a "white" per­son, to pre­sume an affin­i­ty with Delia, an enslaved African Amer­i­can, one suf­fi­cient to imag­ine and write moments from her life?
The ques­tion is not new. The dif­fi­cul­ties of writ­ing bio­graph­i­cal­ly about any­one, but par­tic­u­lar­ly about some­one of a dif­fer­ent race, gen­der, social or eco­nom­ic status—or indeed from anoth­er era—have long been con­tem­plat­ed and tack­led by biog­ra­phers and his­to­ri­ans, with more than sat­is­fac­to­ry results.(18) The key is to sit­u­ate one's own sub­jec­tiv­i­ty against that of the bio­graph­i­cal sub­ject with care and full aware­ness of the issues at stake. Race is an impor­tant fac­tor in my encounter with Delia, if not the most impor­tant fac­tor, for I would nei­ther be look­ing upon her like­ness in the daguerreo­types nor writ­ing about her involve­ment in their mak­ing (and seek­ing ways to redress the injus­tice done to her) if she had not been black at a time of wide­spread and insti­tu­tion­al­ized dis­crim­i­na­tion. Race, in this respect, is every­thing, and con­se­quent­ly my own (dif­fer­ent) race has to be acknowl­edged.
Race, how­ev­er, was not an impor­tant fac­tor in writ­ing the vignettes. Delia was more than sim­ply "black"; her iden­ti­ty and the kinds of expe­ri­ences she may have had and with which a per­son might (or might not) be able to iden­ti­fy go well beyond the col­or of her skin. When writ­ing about Delia and imag­ing a per­son­al­i­ty for her, I did not think of her as African Amer­i­can or enslaved, but as a young woman who worked hard at her job and did not always under­stand the world around her. Sim­i­lar­ly, Jack was not just a slave dri­ver but also a father and a man who found solace in reli­gion, and Jem for me was a man deeply proud of his intel­li­gence and guile. In oth­er words, in devis­ing my fic­tions, I explored dif­fer­ent facets of each per­son, aspects of their (pos­si­ble) per­son­al­i­ties as sug­gest­ed by known his­tor­i­cal details. The pho­tographs may be about race, intend­ed as they were to prove a the­o­ry of racial diver­si­ty, but my fic­tions are not. They are about indi­vid­ual men and women endeav­or­ing to cope with and under­stand the imme­di­ate cir­cum­stances of their lives.
The fact remains, how­ev­er, that we do not—cannot possibly—know what Delia thought nor can we appre­hend her actu­al per­son­al­i­ty. "So maybe you see me but you sho in hell don't see what I see."(19) So says one man to anoth­er in Ralph Ellison's posthu­mous­ly pub­lished nov­el June­teenth, a force­ful reminder that research and imag­i­na­tion can take us only so far and that my fic­tions can­not pos­si­bly speak of Delia's actu­al expe­ri­ence. But giv­en the broad­er his­to­ry in which Delia and her pho­tographs fig­ure, I'll take a few moments of what she may have thought over noth­ing at all from her per­spec­tive or—worse—the scientist's and the slaveholder's points of view exclu­sive­ly. We have plen­ty of the lat­ter in the form of sci­en­tif­ic trea­tis­es and pro-slav­ery tracts, and not near­ly enough of Delia.
Post­script: Imag­i­na­tive Lib­er­a­tion Revis­it­ed
In a dis­cus­sion of the pho­tographs made by the Khmer Rouge at Tuol Sleng prison in Cam­bo­dia, Susan Son­tag wrote: "These Cam­bo­di­an women and men of all ages, includ­ing many chil­dren, pho­tographed from a few feet away, usu­al­ly in half fig­ure, are … for­ev­er look­ing at death, for­ev­er about to be mur­dered, for­ev­er wronged."(20) I find this pas­sage deeply dis­turb­ing. Why con­demn these peo­ple to such a ter­ri­ble fate, the very same fate the Khmer Rouge envi­sioned for them when the images were made? Are these peo­ple only to be remem­bered as vic­tims? Per­haps this is what Alan Tra­cht­en­berg real­ly meant by "imag­i­na­tive liberation"—not to lib­er­ate peo­ple from their lives or undo the grave injus­tices they expe­ri­enced, but to release them from the pho­to­graph, from the frame that holds them end­less­ly in the pose of the vic­tim. Delia, Jack, and the many oth­er peo­ple enslaved in South­ern cities and on plan­ta­tions were not slaves only; they were many oth­er things besides, their per­son­al­i­ties no less com­plex than our own. It may not be easy to see past the painful cir­cum­stances of the pho­to­graph, but sure­ly there are per­spec­tives oth­er than vic­tim­hood from which we should endeav­or to look.
---